The package..
We're delighted to be able to offer you this special city break package, taking you to 3 of the best cities in Europe.
This package is based on 2 nights in each city, with travel to and from the airport, and between each destination. If you would like to consider a shorter, or longer trip, just let us know and we'll be glad to accommodate.
To get a feel for the cities, browse through the tabs above..
Bern – A UNESCO Heritage site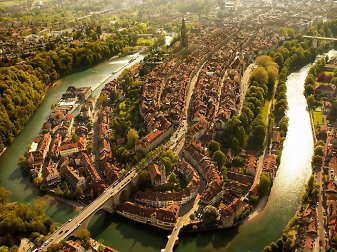 Few cities manage to retain the historic look and feel quite as well as Bern, the capital city of Switzerland. Bern's sandstone houses, narrow streets, and many fountains give this unique city a medieval air.
Many attractions weave through Bern, such as it's famous 6km shopping promenade, sheltered whatever the weather. The clocktower is a must see while visiting, built in 1530, and has served as the cities main clock ever since. Watch the famous family of bears frolicking at the Bear Park, or visit the houses of parliment, one of Bern's famous landmarks, as well as being the seat of the Swiss government.
Whatever you decide to fill your days with in Bern, you're guaranteed to be enchanted and entertained throughout.
 

Luzern – The gateway to central Switzerland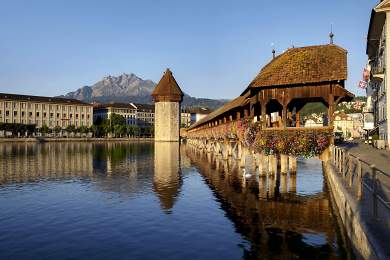 Sited on Lake Lucerne, Luzern is known as the gateway to central Switzerland. It's beautiful lakeside setting and impressive mountainous panorama mean Luzern is a beautiful place to enjoy on the journey through Switzerland.
Sites to visit while staying in Luzern include the Chapel bridge – one of Europe's oldest wooden bridges, and a well known landmark of Luzern. The Swiss Museum of Transport is the most frequented museum in Switzerland, and can offer a very diverse visit. The scenic beauty of Lake Lucerne can be realised by several different cruises offered by paddle steamers and motor boats.
Guided walking tours of the city are available daily throughout the summer, a brilliant way to get the best out of Luzern during your stay.
Montreux – Pure Inspiration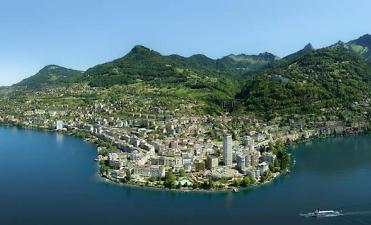 Montreux is a beautiful city situated on the shore of Lake Geneva. Known for it's rich culture and inspiring scenery, Montreux is a fantastically diverse city to visit. There are plenty of museums and galleries to be taken advantage of, from art through film and photography, and theater will not be disappointed.
Music plays a main role in the cultural life of the Montreux Riviera region. The "Who's Who" of the music world excite the public during the various festivals and concerts. The most famous, the Montreux Jazz Festival, has been hosting the great names of the stage every year.
Montreux Riviera is the dream destination for gourmets and wine-lovers. More than 20 first class and distinguished restaurants, with a total of 45 Gault Millau points and 9 Michelin stars, invite you to dine.
World-famous for its magnificent terraced landscape and its steep, hillside vineyards, nestling between lake and mountain, Lavaux is istinguished for its "Cultural Landscape" and in 2007 was included in the UNESCO World Heritage. The Cultural Landscape bears the stamp f any generations of winegrowers. Along the vineyard paths and walkways, one can enjoy breathtaking views of the picturesque villages, Lake eneva and the Alps, discover wine cellars, enjoy the local specialities or just simply let one's soul relax.
Montreux is not to be missed.
Hotels & Pricing
We are able to offer 2, 3, 4 or 5 star hotels in each city. The prices shown below are for the whole package, based on 2 nights in each city, in a twin room. Travel is included on the Swiss travel system from your airport of choice, around to each city, then back to the airport.
Prices do not include flights, but we are happy to assist with this if you wish.
Prices below are based on 2 people travelling, sharing a twin room. Prices start at:
City Break price – including transport, and 2 nights twin room in each City

| City Breaks 2015 (GBP £) | Bed & Breakfast |
| --- | --- |
| 2-star hotel from | £1599 |
| 3-star hotel from | £1750 |
| 4-star hotel from | £2299 |
| 5-star hotel from | £2899 |