3 Days, 2 Iconic Mountains Over 400km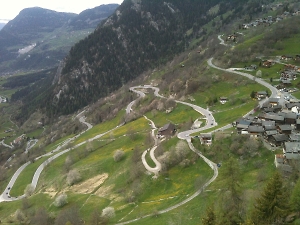 You take a rail transfer from your arrival Swiss airport to the world famous Grindelwald, to be met by your guide and taken to your accommodation. Assemble & check bikes.
---
Day 1 Grindelwald to Villars sur Ollon
Distance: 149km (93 miles)
2 Mountain Passes: Col des Mosses – 1,445m, Col de la Croix – 1,778m
The days riding ends with an 8kms descent into the resort of Villars.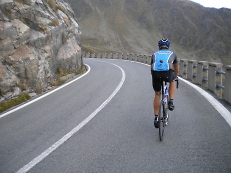 ---
Day 2 Villars sur Ollon to Nendaz
Distance: 131km (82 miles)
1 Mountain Pass: Col de Sanetsch – 2,242m
The day starts with a 15km descent into Bex and ends with a climb of 11km into Nendaz
---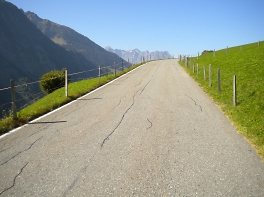 Day 3 Nendaz to Zermatt
Distance: 121km (75 miles)
1 Mountain Pass: Moosalp – 2,000m
A tough climb of 28km, where we race the train up to Zermatt is the great finale to the trip.
---
There are options of extending this tour into 5 days of riding. Including the resorts of Leukerbad and Saas-Fee, please contact us if you wish to book this option.
The Villages The Resorts You Ride Into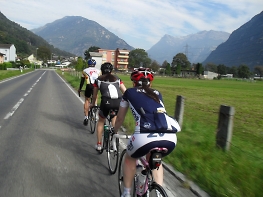 Grindelwald
This is the world famous resort at the foot of the Eiger and the Jungfraujoch. Great character and location, above the city of Interlaken
---
Villars sur Ollon
A delightful resort in the Lake Geneva Region, stunning views across the Rhône Valley and Mont Blanc
---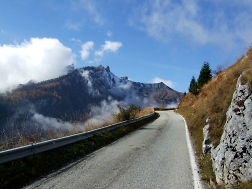 Nendaz
Nendaz is a fairly large town and is made up of mainly chalets, small hotels and apartments. The main streets lead off the roundabout next to the tourist office which is topped with a traditional gondola.
---
Zermatt
As a village, Zermatt is based at 1,620m and is the traditional Swiss chocolate-box, fuel car-free village. It homes to the most famous mountain in the world, The Matterhorn.
Getting Here Fly, Drive, Train
The tour is a supported, so as soon as you arrive in Grindelwald for the first day, you will not have to worry about moving your luggage to any other resort. Each day, you will leave all luggage with the support crew and they will transport it to the next location.
  Flying
Our partners at Switzerland Travel Centre can provide good value and fully ATOL protected scheduled flights from most major UK airports to Geneva, Sion, Basel and Zurich – there are some great deals to be had!
You are welcome to provide your own flights if you prefer, perhaps using one of the many Low Cost airlines flying to Geneva, Basel or Zurich. We can advise you of the best flights and times.
There are now Low Cost airline flights to Geneva from Belfast, Birmingham, Bournemouth, Bristol, Cardiff, Edinburgh, Exeter, Glasgow, Leeds/Bradford, Liverpool, London Gatwick, Luton, Manchester, Newcastle, Norwich, Nottingham East Midlands, Robin Hood Doncaster, Stansted and Southampton – so we should be able to find a flight for you!
Self Drive
Self driving is not fully beneficial, as the tour is a point to point ride. Your entire luggage is transported for you to each over night location. However we can include a Train Transfer, to and from, your car at an extra supplement.
Transfers:
Travelling to Grindelwald and Zermatt
Grindelwald
Zermatt
Train Transfer Time from Basel:
3hr 00min
3hr 45min
Train Transfer Time from Bern:
2hr 10min
2hr 50min
Train Transfer Time from

*

Geneva:
3hr 55min
3hr 40min
Train Transfer Time from

*

Zürich:
2hr 55min
3hr 30min
Driving Distance from Calais:
520 miles
560 miles
* Swiss Fly-Luggage available
View the Swiss Rail timetable.
A Place To Sleep With Magic Luggage
As we travel round on the Eiger to Matterhorn Tour, we stay in a variety of accommodation. Your luggage and spares are moved for you with our support team.
---
Grindelwald Hotel Jungfrau Lodge and Hotel Central Wolter
Hotel Jungfrau Lodge is close to the train station in Grindelwald and offers good quality rooms and a hearty buffet breakfast Hotel Central Wolter is right in the centre and offers large rooms and a great restaurant offering specialities of the region, some rooms with spectacular views to the Eiger.
---
Villars sur Ollon Hotel Ecureils
Your base in this delightful village is the Hotel Ecureils. A family run hotel with great amenities and stunning views. Great rooms (all en-suite) and right by the village centre and lifts. It has a large terrace for assembling and adjusting bikes and plenty of locked and secure bike storage.
---
Nendaz Hotel Les Etagnes
Your base for the first few nights is the Chalet Hotel Les Etagnes. It is a recently renovated chalet hotel with great amenities and stunning views. The hotel boasts great rooms (all en-suite), flat screen TVs, a great bar and restaurant area, large terrace for assembling and adjusting bikes and plenty of locked and secure bike storage.
---
Zermatt HotelPetit (2-star)
A great value 2-star hotel is based in a great central location and plenty of secure bike storage. Comfortable bedrooms with en-suite facilities, cable TV, radio, telephone nice views.
OTP Holidays Preferred Tour Operator of Switzerland Tourism
Our prices are simple and are based on 3-star hotel accommodation with Bed & Breakfast.
Because the prices vary depending on the size of your group to guide ratio, the below prices are based on 6 people riding together with one guide.
Holiday Price incl. Accommodation, 3 full days of guiding, support and transfers

| Summer 2015 | GBP (£) | USD ($) |
| --- | --- | --- |
| RIDING from | £459 | $739 |
---
Unlike most other British tour operators, the prices above include…
4 nights high standard and spacious hotel accommodation
Comprehensive breakfasts each morning
3 full days of expert & personal guiding
Transportation of luggage to overnight stops
Cross-Channel travel with car or transfers to the resort from airport on Swiss Rail
Services of our own very experienced support crew