Crossing the Entire Country Great Challenge
You take a rail transfer from your arrival Swiss airport to the world famous St Moritz, to be met by your guide and taken to your accommodation. Assemble & check bikes.
---
Day 1 St Moritz to Bellinzona
Distance: 160kms (100 miles), total ascent 2,450m (8,040ft)
3 Mountain Passes: Malojapass – 1,815m, Splügenpass – 2,115m, St Bernadinopass – 2,065m
Approximately 25% of today's route is in Italy
Overnight in Bellinzona, capital of Ticino
---
Day 2 Bellinzona to Andermatt
Distance: 114kms (71 miles), total ascent 2,600m (8,530ft)
2 Mountain Passes: Lukmanierpass – 1,971m and Oberalppass – 2,044m
Overnight in Andermatt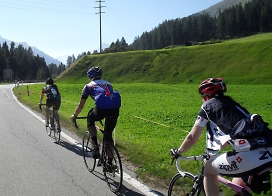 ---
Day 3 Rest day (or Andermatt loop)
Distance: 106kms (66 miles), total ascent 3,070m (10,070ft)
3 Mountain Passes: Furkapass – 2,430m, Nufenenpass – 2,480m, St Gotthardpass – 2,100m
This is an actual Tour de Suisse stage!
Overnight in Andermatt
---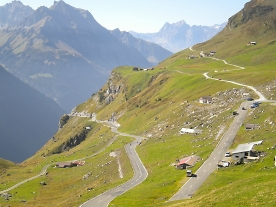 Day 4 Andermatt to Grindelwald
Distance: 87kms (54 miles), total ascent 2,650m (8,695ft)
2 Mountain Passes: Sustenpass – 2,225m and GrosseScheidegg – 1,960m
Overnight in Grindelwald at the foot of the Eiger
---
Day 5 Grindelwald to Villars-sur-Ollon
Distance: 129kms (80 miles), total ascent 1,830m (6,000ft)
3 Mountain Passes: Sänenmöser – 1,280m, Col de Pillon – 1,545m, Col de la Croix – 1,775m
Overnight in Villars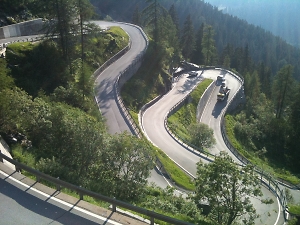 ---
Day 6 Villars-sur-Ollon to Montreux
Distance: 115kms (72 miles), total ascent 980m (3,215ft)
1 Mountain Pass: Pas de Morgins – 1,369m in France
Descend approx 50kms to Evian, and cross Lake Geneva by Boat to Lausanne
Approximate 30% of today's ride is in France
Overnight in the famous city of Montreux, departure next morning.
The Villages The Resorts You Ride Into
St Moritz
A world famous resort and centre for all sports, this is a great place to experience and start the amazing TranSwitz Tour Good selection of bars and restaurants and stunning views across the lakes.
---
Bellinzona
Capital of Ticino, Switzerland and a UNESCO World Heritage City with 3 magnificent castles dominating the city.
---
Andermatt
A famous ski resort and a perfect base in the summer for road biking, the meeting point for 3 stunning and incredible passes and a village steeped in history.
---
Grindelwald
This is the world famous resort at the foot of the Eiger and the Jungfraujoch. Great character and location, above the city of Interlaken.
---
Villars sur Ollon
A delightful resort in the Lake Geneva Region, stunning views across the Rhone Valley and Mont Blanc.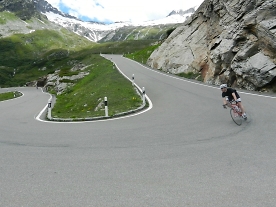 ---
Montreux
The lake, Castle, culture, views…what more can be said? This is a beautiful city worthy of welcoming you at the end of your epic TranSwitz Tour.
Getting Here Fly, Drive, Train
The tour is a supported, so as soon as you arrive in St Moritz for the first day, you will not have to worry about moving your luggage to any other resort. Each day, you will leave all luggage with the support crew and they will transport it to the next location.
  Flying
Our partners at Switzerland Travel Centre can provide good value and fully ATOL protected scheduled flights from most major UK airports to Geneva, Sion, Basel and Zurich – there are some great deals to be had!
You are welcome to provide your own flights if you prefer, perhaps using one of the many Low Cost airlines flying to Geneva, Basel or Zurich. We can advise you of the best flights and times.
There are now Low Cost airline flights to Geneva from Belfast, Birmingham, Bournemouth, Bristol, Cardiff, Edinburgh, Exeter, Glasgow, Leeds/Bradford, Liverpool, London Gatwick, Luton, Manchester, Newcastle, Norwich, Nottingham East Midlands, Robin Hood Doncaster, Stansted and Southampton – so we should be able to find a flight for you!
Self Drive
Self driving is not fully beneficial, as the tour is a point to point ride. Your entire luggage is transported for you to each over night location. However we can include a Train Transfer, to and from, your car at an extra supplement.
Transfers:
Travelling to St Moritz and Montreux
St Moirtz
Montreux
Train Transfer Time from Basel:
4hr 50min
3hr 00min
Train Transfer Time from Bern:
5hr 10min
2hr 20min
Train Transfer Time from

*

Geneva:
6hr 25min
1hr 20min
Train Transfer Time from

*

Zürich:
3hr 45min
2hr 55min
Driving Distance from Calais:
615 miles
495 miles
* Swiss Fly-Luggage available
View the Swiss Rail timetable.
A Place To Sleep With Magic Luggage
As we travel round on the TranSwitz Tour, we stay in a variety of accommodation. Your luggage and spares are moved for you with our support team.
---
St Moritz Hotel Bellaval & Hotel Laudinella
Hotel Bellaval is a great 2-star hotel on the edge of the lake by the arrival train station and offers good quality rooms.
Hotel Laudinella is a great 3-star hotel offering large rooms and a selection of restaurants to eat in.
---
Bellinzona Hotel Gamper & Hotel Internationale
Hotel Gamper is a great 2-star hotel with its own Pizzeria in a convenient location.
Hotel Internationale is a stylish 3-star hotel with large rooms, right opposite the train station in this magnificent city
---
Andermatt Hotel Bergydill & Hotel Aurora
Hotel Bergydill is a charismatic 2-star hotel with comfortable rooms, a great bar and its own Pizzeria restaurant.
Hotel Aurora is a well-known 3-star hotel with large rooms and a busy restaurant, right by the Gemmstock lifts. Great restaurant, local bars – and plenty of bike storage
---
Grindelwald Hotel Jungfrau Lodge and Hotel Central Wolter
Hotel Tschuggen is a 2-star and is close to the train station in Grindelwald and offers good quality rooms and a hearty buffet breakfast.
Hotel Central Wolter is a very nice 3-star right in the centre and offers large rooms and a great restaurant offering specialities of the region, some rooms with spectacular views to the Eiger.
---
Villars sur Ollon Hotel Ecureils
Your base in this delightful village is the Hotel Ecureils. A family run hotel with great amenities and stunning views. The hotel has a new section and a classic section so can accommodate both 2 and 3-star. It has a large terrace for assembling and adjusting bikes and plenty of locked and secure bike storage.
---
Montreux Hotel Tralala and Hotel Bon Port
Hotel Bon Port is a nice 2-star 100m away from the lake and is conveniently situated in a quiet area in the heart of Montreux.
Hotel Tralala is a gem of a 3-star hotel. The hotel was entirely renovated in 2008 in order to offer its guests an establishment where modern style meets historical charm, with a hint of musical spirit.
OTP Holidays Preferred Tour Operator of Switzerland Tourism
Our prices are simple, 2-star hotel accommodation (Bed & Breakfast) or 3-star hotel accommodation (Bed & Breakfast or Half-Board)
Because the prices vary depending on the size of your group to guide ratio, the below prices are based on 6 people riding together with one guide.
Holiday Price incl. Accommodation, 6 full days of guiding, support and transfers

| Summer 2015 (GBP £) | Bed & Breakfast | Half-Board |
| --- | --- | --- |
| 2-star hotel from | £899 | not available |
| 3-star hotel from | £1149 | £1299 |
---
Holiday Price incl. Accommodation, 6 full days of guiding, support and transfers

| Summer 2014 (USD $) | Bed & Breakfast | Half-Board |
| --- | --- | --- |
| 2-star hotel from | $1399 | not available |
| 3-star hotel from | $1799 | $1999 |
---
Unlike most other British tour operators, the prices above include…
7 nights high standard and spacious hotel accommodation
Comprehensive breakfasts each morning
Evening meals (with the Half-Board option) every night except last night
6 full days of expert & personal guiding
Transportation of luggage to overnight stops
Cross-Channel travel with car or transfers to the resort from airport on Swiss Rail
Services of our own very experienced support crew