SPECIAL CANCELLATION POLICY DUE TO COVID-19
21.09.2021: There are now no quarantine requirements for travellers from any country in the world (click HERE). From most countries (at present), travellers need to show proof of double vaccination (and to enter bars & restaurants). 
All our properties are part of the Swiss Clean & Safe campaign, meaning that the highest standards of cleaning are used. In addition, all lift operators adhere to this standard of excellence.
We understand that you might be concerned about changes to travel regulations. We constantly monitor changes in advice from both the UK and Swiss governments and will be updating this page if advice changes.
We have very generous cancellation policies to assist you and your plans.
HOTELS:
Most hotels are very good with late cancellations. Feel free to browse the live availability and if you have any questions regarding the latest cancellation date (with full refund) should travel not be possible due to regulations, you can contact us on the Live Webchat so we can advise you of specific dates for cancellation.
APARTMENTS and CHALETS:
If an official travel warning has been issued for your holiday destination, you can cancel or change your booking free of charge up to 15 days prior to the arrival date . Naturally, if an official travel warning is issued in the 15 days before the scheduled arrival, a cancellation free of charge will also be possible at short notice but only for these cases. The same applies if quarantine regulations are imposed in Switzerland that cannot be circumvented by being double vaccinated.
INSURANCE:
You are strongly recommended to have holiday insurance in place (that covers COVID-19) in case you want to cancel for reasons other than official government regulations on travel. WHICH MAGAZINE has compiled a list of such travel insurance companies and can be seen here 
SAFETY MEASURES:
There are strict safety measures in place in all our resorts and destinations, and an example of these is shown below in a short video from Zermatt.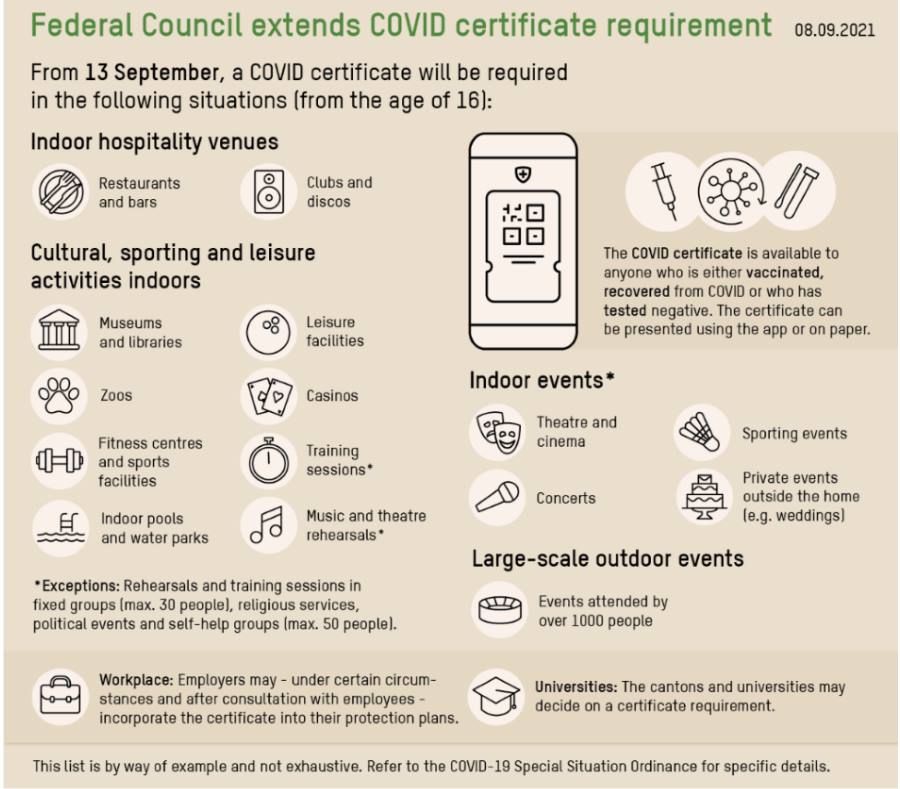 Provisions for operators of ski areas (these have been in place all winter in Swiss resorts and are strictly enforced for your safety)
In addition to the general requirements for precautionary measures, the precautionary measures formulated by operators of ski areas must govern the following special circumstances:
Occupancy of closed vehicles such as gondolas and cable cars may not exceed two-thirds of capacity.
Masks must be worn on all ski lifts and gondolas, also while queuing. In addition to this, a distance of 1.5m must be maintained while queuing.
Measures must be in place to ensure that a distance of 1.5m can also be maintained on access paths to the ski area and in the access and waiting areas of transport installations.
People who are infected with or have symptoms of the new coronavirus must not be admitted to the ski area. There must be precautionary measures in place to this end, for example guests must be required to make a personal declaration. Staff must also be given instructions not to transport people with obvious symptoms, unless they can prove that the symptoms have nothing to do with COVID-19.
The precautionary measures must be coordinated both with the measures of winter sports resorts and those of the operators of catering establishments (takeaways) in the ski area.
The measures set down and compliance with them must be monitored. Visitors who do not keep to the rules must be expelled from the ski area.