Monastery and Collegiate church Standalone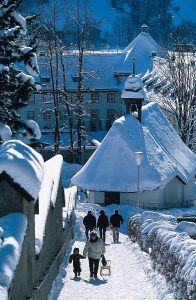 The village is characterised by the imposing monastery and the collegiate church. There are still about 30 monks living and working here today. The Mountain of Angels, as the founders of the Benedictine monastery called the place in 1120, is a popular excursion destination for people travelling from nearby Lucerne: the journey to Engelberg by road or narrow-gauge railway can take as little as one hour.
---
The Village
Engelberg is a standalone resort in the centre of Switzerland situated at 1,000m and was originally not set up to be a ski resort. The fact that it is a standalone means it adds to the character and charm of this little village, which has not been affect by a rush to join resorts to one another. Modern shuttle buses or a brief walk can get you to the main lift stations. This is a small price to pay for the size and quality of the ski area. The 3,000m range is the first area to be hit by the weather system from the North West and therefore is always an excellent resort for snow, that and the single hamlet feeling, give the resort a very special feel.
Eating Out
Engelberg has a great range of dining with over 55 restaurants to choose from. Surprisingly, although it is not connected to any other resort it still can boast a great international mix. There are of course, the normal great fondue and Raclettes places you'd expect to find but also dotted in between these classics are French, Italian, Indian and Chinese places.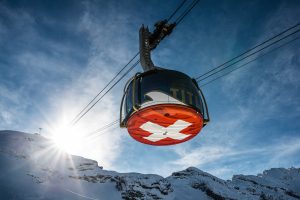 Après Ski
Engelberg is not known as a mad party resort in Switzerland, the heavy histories of the monasteries keep the resort grounded and conservative. Having said that almost all of the restaurants have bars attached to them and then on top of that there are more dedicated nightspots, such as Yuccatan.
3.5Million Francs on Snow Making Guaranteed Snow
The Titlis is Engelberg's house mountain and is also the highest glacier and biggest ski and snowboard area in Central Switzerland. The glacier is accessed by a revolving cableway. At an altitude of 3,020m you get an amazing view of the Central Alps. The Glacier Park and Ice Flyer chairlift are a great area for skiers and snowboarders alike. There are runs of all levels, keeping all abilities happy. There is a freestyle park, glacier grotto built into the ice and walking options on the Titlis.
The glacier lifts ensure that Engelberg is open every day and can also boast a lengthy season. The local lift company has invested 3.5million francs into snow making facilities on the lower slopes to help with this matter, therefore over 40km of the slopes are guaranteed to be snow covered, around 10km on the glacier and a massive 30km on the lower slopes.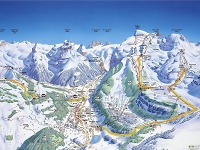 Live: Open Lifts
The Slopes
The 12km long descent from the Titlis to Engelberg is the longest and drops a massive 2,000m during that distance. The Joch Pass ski area extends all the way to the Bernese Oberland. The Brunni is perfect for beginners, families and groups, as well as relaxing.
The valley can also be explored on cross-country skis, doing Nordic walking, winter-walking as well as in a horse-drawn carriage or sleigh.
This ski pass covers all the lifts in Engelberg.
Ski Rental Equipment
Over the years we have managed to negotiate some superb equipment at excellent rates and have passed the benefits of this directly to you.
We use one of the top Sports shops in Engelberg, 4 Season Sports, they are very convenient and friendly and we can offer a massive 20% discount here.
SKIS: Top rate skis are included in the rental price with the latest brands and models.
SNOWBOARDS: No extra for snowboards with the latest bindings and designs.
Getting Here Fly, Drive, Train
We include Cross-Channel Ferries for those who are self driving or Airport Transfers for those flying, so you can choose the best option that suits you.
Travelling to Engelberg
Train Transfer Time from Basel:
2hr 45min
Train Transfer Time from Bern:
2hr 35min
Train Transfer Time from

*

Geneva:
3hr 35min
Train Transfer Time from

*

Zürich:
2hr 05min
Driving Distance from Calais:
500 miles
* Swiss Fly-Luggage available
View the Swiss Rail timetable.
We offer a wide range of quality accommodation from 2 to 5 star, apartments and hotels
Chalets and Apartments (Self-catered):
We have 2-person studio apartments and every size, right up to 8-person apartments. They are spacious and convenient to amenities, the ski lifts and free village ski bus.
All our hotels, chalets and apartments are fully ABTA protected.
Hotels:
Again, we offer a huge range of availability on hotels. We can offer any level from our 2, 3 or 4-star hotel selection. In some resorts we can even 5 star hotels.
---
Booking
OTP Holidays – Engelberg Preferred Tour Operator of Switzerland Tourism
Our prices are simple, LOW & HIGH season. We have Youth prices for up to 20yrs old, discounts for children up to the age of 16yrs and even bigger savings for Children under the age of 6yrs!
LOW & HIGH season vary for each accommodation/re­sort – we do not add any of our own surcharges onto the cost of your stay. NEW YEAR and HALF-TERM are standard HIGH Season. If you have any queries about which dates are LOW or HIGH for the accommodation level you desire, please contact us directly.
---
Unlike most other British tour operators, the prices above include…
Up to 20% discount on ski rental equipment (if required)
Discounted ski passes
Massive choice of high standard and spacious apartment or hotel accommodation
Cross-Channel travel with car or transfers to the resort from airport on Swiss Rail
Services of our very own 24hr on-call experienced representatives
All cleaning, linen, heating & tourist tax charges