Things are a little different in Zermatt… A world of its own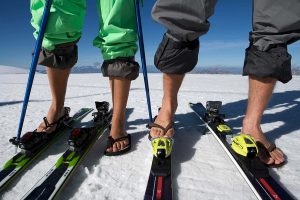 The name Zermatt comes from the local dialect words Zer which means to, and matta, which means field or meadow. Therefore: to the field.
As a village, Zermatt has it all. Based at 1,620m it has the most iconic
mountain in the world as a backdrop, a massive, high-altitude international ski area, some of the best mountain restaurants in the world and a traditional Swiss chocolate-box, fuel car-free village. Zermatt boasts the name of one of the best winter resorts in the world and delivers in every respect. The village itself has a mix of rustic old wooden Stadels and Grand Luxury hotels. The main street is fully traffic free, except the occasional horse drawn carriage and is packed with lively bars, restaurants and shops. At any time of the day, there's an amazing atmosphere across the entire resort.
---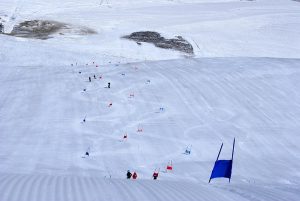 Zermatt's Famous Mountain Restaurants
Zermatt's mountain restaurants are blessed with a winning combination of great cuisine, majestic views and the authentic feel of charmingly restored alpine farm buildings. This is the point of coming to Zermatt, maybe even the reason to learn to ski in the first place. There are 38 mountain restaurants, many of them famous for great cuisine, some even with Gault Millau points.
Throw in the views (not just of the Matterhorn, but it's a good starting point) and the authentic feel of many of the restaurants – charmingly restored alpine farm buildings – and you're onto a winner, whether you're cooking or dining.
Après Ski
Après-ski ranges from quiet informal cafes to lively bars with music and
rock bands. There are bars for every taste, and night clubs with dancing until dawn, if you have the energy! Night clubs are generally free entry and they and the main bars offer a number of theme nights as well.
---
Dining Out in Town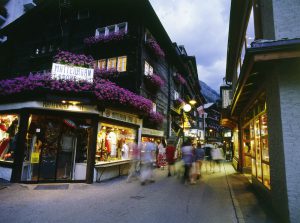 It's no secret that you can eat well around the clock in Zermatt. Zermatt not only has the highest density of four-thousand-metre summits, but also of gourmet restaurants. Gault Millau confirms this every year. Zermatt offers much more than gourmet cuisine, however. If you ask someone from Zermatt where you should go for a meal, they'll first start scratching their heads. Where to start? What do you like to eat? Experimental cookery, Asian, accompanied with songs or not, Mediterranean-Alpine, grilled on an open barbecue, minimalist menu with local specialities, or venison and ostrich meat? There is literally everything on offer in Zermatt.
High and Large! The highest, largest and most efficiently developed snow sport location in the Alps
The ski area is the highest and one of the best developed and most convenient in the Alps. This ensures thrilling skiing on the steepest slopes for 365 days a year. This ski region boasts some of the most varied and dramatic skiing with slopes up to 3,900m!
Enjoy 20kms of pistes on Zermatt's glaciers. You take the lift up to the highest cable car in Europe and then find some amazing summer skiing. It's that good that you'll be skiing around with a lot of the national race teams. From Super G to freestyle and moguls, the summer skiing in Zermatt is superb. There is a snow park based on the glacier with a half pipe and an airbag jump, so you can practice your tricks and feel safe that if it goes a little wrong it won't be an expensive heli-ride down.
Included in your holiday is the Sports Pass. This pass covers all the ski lifts in Zermatt, and also Schwarzsee and Rothorn.
Live: Mountain Lifts
Special Ski & Lift Pass Options
As Zermatt is a year round resort, the summer season is just as busy as the winter and therefore all the other lifts are open to bikers and hikers. So if you feel like a day off the snow, there are plenty of opportunities to do so and take a trip up the famous Gornergrat Train at a small fee.
Ski Rental Equipment
Over the years we have managed to negotiate some superb equipment at
excellent rates and have passed the benefits of this directly to you.
SKIS: Top rate skis are included in the rental price with the latest brands and models.
SNOWBOARDS: No extra for snowboards with the latest bindings and designs.
Getting Here Fly, Drive, Train
We include Cross-Channel Ferries for those who are self driving or Airport Transfers for those flying, so you can choose the best option that suits you.
Zermatt is a car-free resort; this however does not mean that getting around or to and from the resort is difficult. The trains travel straight into the resort centre and then electric taxis can move you around the resort itself.
There is even a free electric ski bus to get you to the lifts. If you are
driving to the resort, it's still easy. Simply park your car at the village of Täsch and then take the 10 minute shuttle train straight into the resort centre.
Travelling to Zermatt
Train Transfer Time from Basel:
3hr 45min
Train Transfer Time from Bern:
2hr 50min
Train Transfer Time from

*

Geneva:
3hr 40min
Train Transfer Time from

*

Zürich:
3hr 30min
Driving Distance from Calais:
560 miles
* Swiss Fly-Luggage available
View the Swiss Rail timetable.
We offer a wide range of quality accommodation from 2 to 5 star, apartments and hotels
Chalets and Apartments (Self-catered)
We have 2-person studio apartments and every size, right up to 8-person
apartments. They are spacious and convenient to amenities, the ski lifts and free village bus.
All our chalets and apartments are fully ABTA protected.
Hotels:
Again, we offer a huge range of availability on hotels. We can offer any
level from our 2, 3 or 4-star hotel selection. In some resorts we can even 5 star hotels.
---
Booking
OTP Holidays – Zermatt Preferred Tour Operator of Switzerland Tourism
Our prices are simple. We have Youth prices for up to 19yrs old, discounts for children up to the age of 16yrs and even bigger savings for children under the age of 9yrs!
Unlike most other British tour operators, the prices above include…
Up to 20% discount on ski rental equipment (if required)
Massive choice of high standard and spacious apartment or hotel
accommodation
Cross-Channel travel with car or transfers to the resort from airport on Swiss Rail
Services of our very own 24hr on-call experienced representatives
All cleaning, linen, heating & tourist tax charges