Biking Paradise Thrilling tracks and trails
Welcome to Verbier, your gateway to a world-class mountain biking experience in the Swiss Alps. Explore an extensive network of thrilling trails, including the renowned Verbier Bike Park.
There are 9 downhill tracks, 23 enduro trails, 500 km of cross-country tracks and numerous paths for e-biking.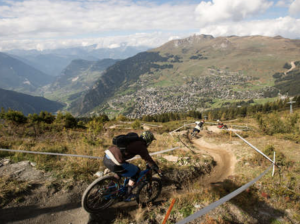 It's a giant playground: from dirt tracks to more challenging routes, there is plenty of choice for everyone.
Verbier is undeniably one of the best places in Switzerland for downhill biking. The trails have all been named in the local dialect, for example "Tsopu" (which means "slowly"), "Chôtatai" ("sit down") or "Bortabitche" ("the beast" – which speaks for itself!).
Whether you are a beginner or wish to improve your skills, make your way to the Verbier Bikeschool & Guide, the first downhill biking school in Verbier. You can take a half-day course during which qualified guides will take you along a suitable trail and give you tips and advice.
The Verbier Bike Park is well-known and offers an exciting array of features, jumps, and technical sections that will challenge even the most experienced riders. Venturing beyond the bike park, Verbier's wider trail network offers stunning views of the Valais Alps. Immerse yourself in breathtaking alpine landscapes as you navigate through forests, meadows, and rugged terrains. Enjoy the freedom and exhilaration of exploring this mountain biking paradise at your own pace.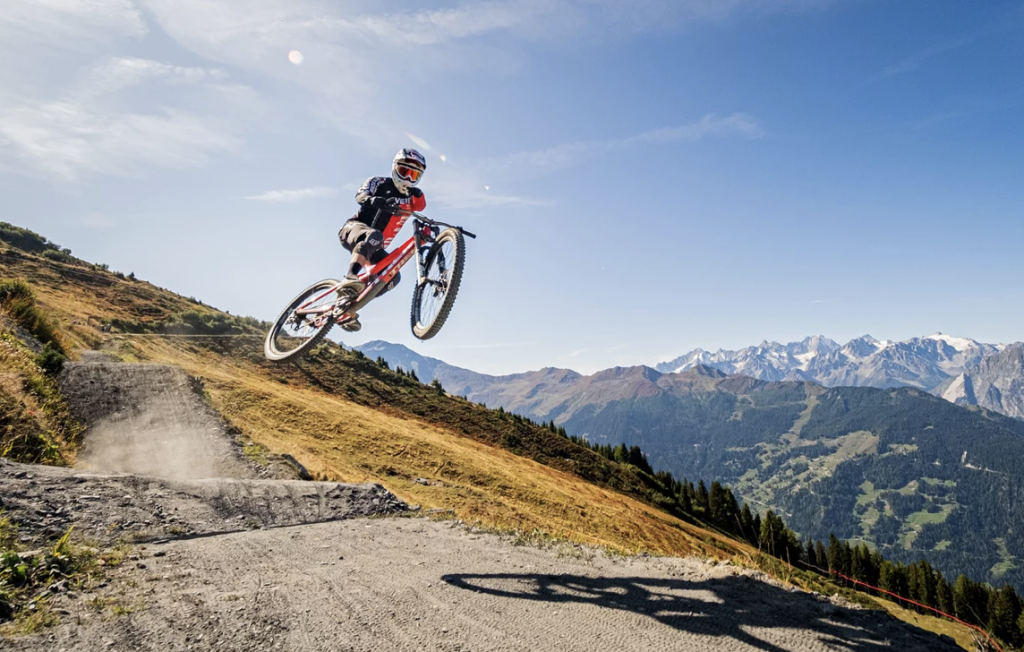 Largest Resort in Swiss Alps 25,000 Opportu­nities to Sleep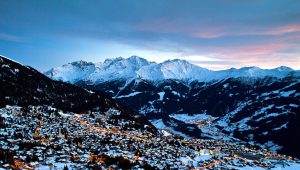 Verbier is one of the largest holiday resort and ski areas in the Swiss Alps, and is recognized as one of the premiere off-piste locations in the world. Many top skiers have settled in the Verbier area in order to take advantage of the steep slopes, varied conditions and resort culture. They run the Verbier Extreme competition here where pro skiers tackle their way down, what looks to be a cliff face, points being given on speed and choice of line.
The Village
The village is predominantly made up of chalets and claim to offer over 25,000 opportu­nities for overnight stays. The village is set up around a few small roundabouts and branches out from them. All the main shops, bars and restaurants are based around this area. As defined by the skiing, it is a fairly young resort and all the shops stock the latest freeride gear and brightest clothing. The resort isn't short of money either and a few well know celebrities own places here and holiday in the resort.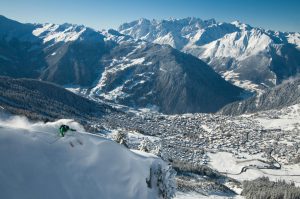 Eating Out
It is a very lively resort and known for bringing in the Nuevo rich clientele. This gives the village a very cosmopolitan feel and has a wide range of choices for food. There is pretty much a restaurant from every main food type, and within that is a range of prices and quality. This means a small walk around and you will almost certainly find something to suit your taste buds.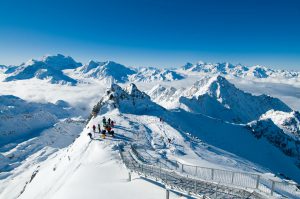 Après Ski
The après-ski nightlife is pretty happening in Verbier. In early evening the pubs and bars are jammed with skiers discussing the crazy lines they have skied. Many of the bars do a happy hour, which is normally between the times of 4–6pm. So if you know the right bars you can double the rewards. If the crazy happy hour scene isn't for you then there are plenty of boutique style wine bars that are a lot quieter and offer a warmer feeling. Later on into the evening there are a few nightclubs that will keep you going into the early hours.
Getting Here Fly, Drive, Train
We include Cross-Channel Ferries for those who are self driving or Airport Transfers for those flying, so you can choose the best option that suits you.
Travelling to Verbier

| | |
| --- | --- |
| Train Transfer Time from Basel: | 4hr 40min |
| Train Transfer Time from Bern: | 3hr 45min |
| Train Transfer Time from Geneva: | 3hr 10min |
| Train Transfer Time from Zürich : | 4hr 35min |
| Driving Distance from Calais: | 540 miles |
View the Swiss Rail timetable.
We offer a wide range of quality accommodation from 2 to 5 star, apartments and hotels
Chalets and Apartments (Self-Catered):
We have 2-person studio apartments and every size, right up to 8-person apartments. They are spacious and convenient to amenities, the ski lifts and free village ski bus.
All our hotels, chalets and apartments are fully ABTA protected.
Hotels:
Again, we offer a huge range of availability on hotels. We can offer any level from our 2, 3 or 4-star hotel selection. In some resorts we can even 5 star hotels.
---
Booking
OTP Holidays – Verbier Preferred Tour Operator of Switzerland Tourism
Our prices are simple, LOW & HIGH season. We have Youth prices for up to 18yrs old, discounts for children up to the age of 13yrs and even bigger savings for Children under the age of 6yrs!
LOW & HIGH season vary for each accommodation/re­sort – we do not add any of our own surcharges onto the cost of your stay. NEW YEAR and HALF-TERM are standard HIGH Season. If you have any queries about which dates are LOW or HIGH for the accommodation level you desire, please contact us directly.
---
Unlike most other British tour operators, the prices above include…
Massive choice of high standard and spacious apartment or hotel accommodation
Cross-Channel travel with car or transfers to the resort from airport on Swiss Rail
Services of our very own 24hr on-call experienced representatives
All cleaning, linen, heating & tourist tax charges