Traditional Timber Houses Jungfrau Region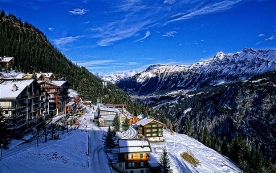 Mürren has its roots as a farming village. With the beginning of tourism – both winter and summer – it has grown in size and wealth. The winter sports particularly have been an important part of Mürren's history since the first British winter tourists arrived in 1911. During the First World War wounded prisoners of war stayed here pending repatriation and played a role in developing winter sports. In 1924 the Kandahar Ski Club was set up by Sir Arnold Lunn (whose statue stands outside the rail station) and eight other British skiers. The club takes its name from the Roberts of Kandahar Challenge Cup, first run in (1911). This, the world's senior challenge cup for downhill ski-racing, was presented by Lord Roberts, who, in the Second Anglo-Afghan War, won the decisive Battle of Kandahar.
In 1928 the Inferno ski race was set up, and continues to this day. The International Inferno Race, comprising cross-country, giant slalom and downhill races, is the longest (15.8 km, 9.8 mi) and largest amateur ski race in the world.
The Jungfrau region can be reached easily from Mürren. Apart from the direct access to the Schilthorn area, the valley floor is easily accessible, and the whole region opens up via the Wengeneralp Railway. The Jungfraujoch can even be reached by railway, and you can reach Grindelwald via Kleine Scheidegg or Mannlichen.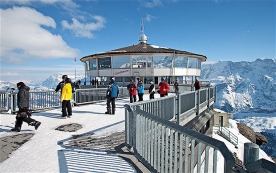 The Village
You can't fail to be struck by Mürren's beauty and tranquillity. Paths and narrow lanes weave between little wooden chalets and a handful of bigger hotel buildings – all normally blanketed by snow. The views from the village and the slopes of the Eiger, Mönch and Jungfrau across the valley are magnificent. So are the 360° views from the top of the Schilthorn.
---
Eating Out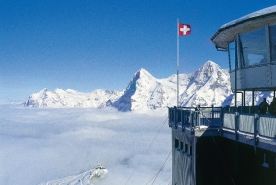 Whether you prefer to dine out in elegant surroundings or you prefer the hearty meal in a wooden chalet style restaurant: Enjoy your meal in Mürren with a view of the panoramic mountain range with Eiger Mönch and Jungfrau and its glaciers.
Après Ski
The Bliemlichäller in the basement of Hotel Blumental is known to every guest above 14 years. In Winter season there is music by a DJ daily from 9.30pm to 2.30am. For a drink after dinner or a evening out with a classic cocktail, there ist he Tächi Bar on the entrance level of Hotel Eiger. Music by DJ during winter season, open daily until 2am
Family Friendly Skiing 215km of Skiing
Mürren itself is the ideal starting point for the family-friendly ski area, with over 53kms of predominantly medium pistes and has easy access to the full area, Kleine Scheidegg and Mannlichen areas, and offsetting this is the renowned World Cup piste on the Lauberhorn. Once you reach Kleine Scheidegg from Lauterbrunnen, there's a lot more skiing in the neighbouring region of the Jungfrau, this includes Grindelwald and Wengen. This expansive ski area can be quickly reached by mountain railway. There are over 45 lifts altogether in the Jungfrau region as well as over 215km of pistes and fun parks.
The Slopes
There is plenty of terrain for beginners. This includes nursery slopes in the centre of the village and as much as 30% of slopes in the combined area are suitable for novice skiers.
The Jungfrau region is where all levels of intermediate skiers come into their own with almost nowhere they cannot get to. Over 80% of the runs in the area suitable for intermediates.
The remainder of the runs are suitable for advanced skiers. Sometime you may have to look a little carefully to find the top end difficult runs but the World Cup piste and Inferno should keep you busy all day!
This ski pass covers all the lifts in the Jungfrau region – 215km of
pistes to 3,000m.
Getting Here Fly, Drive, Train
We include Cross-Channel Ferries for those who are self driving or Airport Transfers for those flying, so you can choose the best option that
suits you.
Travelling to Mürren

| | |
| --- | --- |
| Train Transfer Time from Basel: | 3hr 55min |
| Train Transfer Time from Bern: | 3hr 10min |
| Train Transfer Time from Geneva: | 2hr 10min |
| Train Transfer Time from Zürich : | 3hr 50min |
| Driving Distance from Calais: | 520 miles |
View the Swiss Rail timetable.
We offer a wide range of quality accommodation from 2 to 4 star hotels and apartments
Hotels:
We can offer any level from our 2, 3 or 4-star apartment and hotel selection.
---
Booking
OTP Holidays – Mürren Preferred Tour Operator of Switzerland Tourism
Our prices are simple, LOW & HIGH season. We have Youth prices for up to 20yrs old, discounts for children up to the age of 16yrs and even bigger savings for Children under the age of 6yrs!
LOW & HIGH season vary for each accommodation/re­sort – we do not add any of our own surcharges onto the cost of your stay. NEW YEAR and HALF-TERM are standard HIGH Season. If you have any queries about which dates are LOW or HIGH for the accommodation level you desire, please contact us directly.
---
Unlike most other British tour operators, the prices above include…
Discounts on ski passes
Choice of high standard accommodation
Cross-Channel travel with car or transfers to the resort from airport on Swiss Rail
Services of our very own 24hr on-call experienced representatives
All VAT & tourist tax charges