Traditional
Bernese Oberland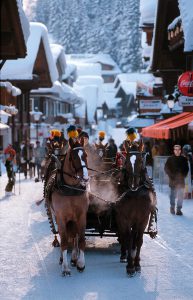 Adelboden lies in the west of the Berner Oberland, at the end of the valley of the Engstlige River, which flows through Frutigen into the Kander River. It is a traditional Swiss mountain village on a terrace looking south to the Engstligen waterfalls. Part of the village inhabits the valleys of Gilbach, Stigelschwand, Boden, Hirzboden, and Ausserschwand. The church and main street are at 1,350m and the highest point of the area is the Grossstrubel at 3,242m.
---
Not so many years ago skiers made up the vast majority of winter holidaymakers visiting the Bernese Oberland but recently the increasing numbers of visitors are now discovering the well prepared hiking paths this region has to offer. The area has over 75km of prepared trails for winter walking and snow-shoeing. There are options of horse-drawn sleigh rides around the village and surroundings. Ice skating and curling are both very popular.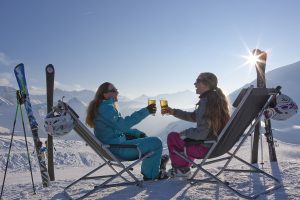 Night Life
Adelboden can offer a lively nightlife with a good choice of nightclubs and bars with an informal, fun atmosphere. There are discotheques that favour younger people while the Alte Tavern appeals to all ages. The nightclubs here are always busy. They were converted from six very old wooden Stadels into a barn-style room with a gallery! Typical Swiss Raclettes and fondues are available in nearly all the restaurants and for something a little different to the traditional there are a lot of Italian restaurants, specialising in good pizzas! In some Tavern bars there are live bands and some of the restaurants have traditional Swiss music.
First Class Lift System
210kms
The villages of Lenk and Adelboden are located in two different valleys and are thus closely connected only by pistes. The main network of lifts are accessed from the resort by the Oey gondola which transports skiers to Sillerenbühl at 1,974m, and to the centre of the Adelboden-Lenk ski area.
The skiing is split in 5 mini areas all connected by a first class lift system making this one of the largest and most attractive ski areas in Switzerland. You'll find over 170km of slopes fed by over 55 lifts. Starting at an altitude of 1,053m and going up to 2,375m, the slopes are predominantly north-facing and therefore ensure good snow coverage throughout the season.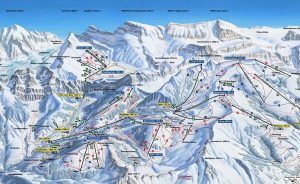 Live: Open Lifts
The Runs
Good nursery slopes can be found in the village, whilst the Hahnenmoos area provides a wider area for the better skiers. Adelboden is ideal for intermediates, as a large proportion of the skiing area can be explored by red runs. The skiing is divided into five sectors, including Geils, which offer long, traversing runs across the mountains. There are a few black runs down from the Geils area and some off piste trails leading back down to Adelboden and Lenk as well as the FIS Ski World Cup Adelboden-Piste at Chuenisbärgli. Only big names like Sweden's Ingemar Stenmark and Austria's Hermann Maier have made it onto the medals podium here.
This ski pass covers all the lifts in Adelboden, Lenk & Kandersteg.
Getting Here Fly, Drive, Train
We include Cross-Channel Ferries for those who are self driving or Airport
Transfers for those flying, so you can choose the best option that
suits you.
Travelling to Adelboden
Train Transfer Time from Basel:
2hr 55min
Train Transfer Time from Bern:
2hr 00min
Train Transfer Time from

*

Geneva:
3hr 30min
Train Transfer Time from

*

Zürich:
2hr 45min
Driving Distance from Calais:
515 miles
* Swiss Fly-Luggage available
View the Swiss Rail timetable.
We offer a wide range of quality accommodation from 2 to 5 star,
apartments and hotels
Chalets and Apartments (Self-catered):
We have 2-person studio apartments and every size, right up to 8-person
apartments. They are spacious and convenient to amenities, the ski lifts and
free village ski bus.
All our chalets and apartments are fully ABTA protected.
Hotels:
Again, we offer a huge range of availability on hotels. We can offer any
level from our 2, 3 or 4-star hotel selection. In some resorts we can even
5 star hotels.
---
Booking
OTP Holidays – Adelboden Preferred Tour Operator of Switzerland Tourism
Our prices are simple, LOW & HIGH season. We have Youth
prices for up to 20yrs old, discounts for children up to the age of 16yrs and
even bigger savings for Children under the age of 6yrs!
Unlike most other British tour operators, the prices above include…
Massive choice of high standard and spacious apartment or hotel
accommodation
Cross-Channel travel with car or transfers to the resort from airport on
Swiss Rail
Services of our very own 24hr on-call experienced representatives
All cleaning, linen, heating & tourist tax charges