Things are a little different in Zermatt… A world of its own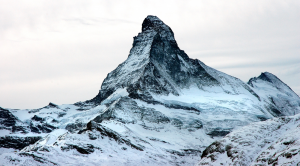 The name Zermatt comes from the local dialect words Zer which means to, and matta, which means field or meadow. Therefore: to the field.
As a village, Zermatt has it all. Based at 1,620m it has the most iconic
mountain in the world as a backdrop, a massive, high-altitude international ski area, some of the best mountain restaurants in the world and a traditional Swiss chocolate-box, fuel car-free village. Zermatt boasts the name of one of the best winter resorts in the world and delivers in every respect. The village itself has a mix of rustic old wooden Stadels and Grand Luxury hotels. The main street is fully traffic free, except the occasional horse drawn carriage and is packed with lively bars, restaurants and shops. At any time of the day, there's an amazing atmosphere across the entire resort.
---
Zermatt's Famous Mountain Restaurants
Zermatt's mountain restaurants are blessed with a winning combination of great cuisine, majestic views and the authentic feel of charmingly restored alpine farm buildings. This is the point of coming to Zermatt, maybe even the reason to learn to ski in the first place. There are 38 mountain restaurants, many of them famous for great cuisine, some even with Gault Millau points.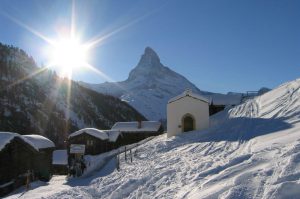 Throw in the views (not just of the Matterhorn, but it's a good starting point) and the authentic feel of many of the restaurants – charmingly restored alpine farm buildings – and you're onto a winner, whether you're cooking or dining.
---
Dining Out in Town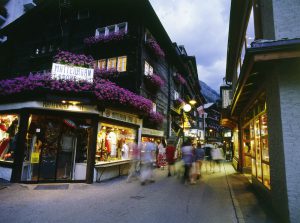 It's no secret that you can eat well around the clock in Zermatt. Zermatt not only has the highest density of four-thousand-metre summits, but also of gourmet restaurants. Gault Millau confirms this every year. Zermatt offers much more than gourmet cuisine, however. If you ask someone from Zermatt where you should go for a meal, they'll first start scratching their heads. Where to start? What do you like to eat? Experimental cookery, Asian, accompanied with songs or not, Mediterranean-Alpine, grilled on an open barbecue, minimalist menu with local specialities, or venison and ostrich meat? There is literally everything on offer in Zermatt.
High and Large! 400kms of marked hiking trails – and the peaks too!
The impressive mountain world surrounding Zermatt and the Matterhorn that awaits discovery is a real nature paradise for every hiker and mountaineer. With 38 four thousand-metre peaks in the immediate vicinity and a network of hiking trails extending over 400 km, Zermatt is the most famous mountain climbing village in the region and an ideal starting point for hiking holidays in Switzerland that are both amazing and rich in experience.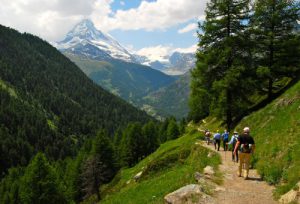 Unspoilt nature and idyllic valleys with fragrant forests and countless lakes await discovery. And there is always a view of the highest mountain giants of the Alps. During every hike in Zermatt, chamois, ibex, edelweiss, gentian and alpine rose can be seen.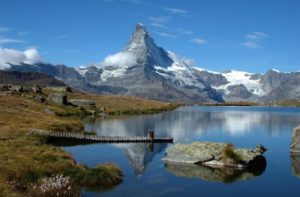 Zermatt's mountain world is as fascinating as it is varied. About
400 kilometres of marked hiking paths and mountain trails around Zermatt, Täsch and Randa offer varying degrees of difficulty, gradients and routes for all levels. There are both challenging hiking trails for experienced hikers as well as easy tours for beginners and families to choose from. Depending upon what one is looking for, hiking in the Alps around Zermatt can be an athletic challenge, an enjoyable family outing or a relaxing and pleasant walking tour.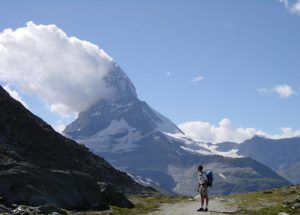 The Gornergrat, Matterhorn & Rothorn lifts all run in the summer, so if you prefer to get some height before hiking, they are ready to whisk you to over 3000m if you wish! You choose the duration of your holiday and how much you want to do.
Getting Here Fly, Drive, Train
We include Cross-Channel Ferries for those who are self driving or Airport Transfers for those flying, so you can choose the best option that suits you.
Zermatt is a car-free resort; this however does not mean that getting around or to and from the resort is difficult. The trains travel straight into the resort centre and then electric taxis can move you around the resort itself. There is even a free electric ski bus to get you to the lifts. If you are driving to the resort, it's still easy. Simply park your car at the village of Täsch and then take the 10 minute shuttle train straight into the resort centre.
Travelling to Zermatt
Train Transfer Time from Basel:
3hr 45min
Train Transfer Time from Bern:
2hr 50min
Train Transfer Time from

*

Geneva:
3hr 40min
Train Transfer Time from

*

Zürich:
3hr 30min
Driving Distance from Calais:
560 miles
* Swiss Fly-Luggage available
View the Swiss Rail timetable.
We offer a wide range of quality accommodation from 2 to 5 star, apartments and hotels
Chalets and Apartments (Self-catered and Catered):
We have 2-person studio apartments and every size, right up to 8-person apartments. They are spacious and convenient to amenities, the lifts village centre.
All our hotels, chalets and apartments are fully ABTA protected.
Hotels:
Again, we offer a huge range of availability on hotels. We can offer any level from our 2, 3 or 4-star hotel selection. In some resorts we can even 5 star hotels.
---
Booking