Come Up, Slow Down Last paradise in a crazy world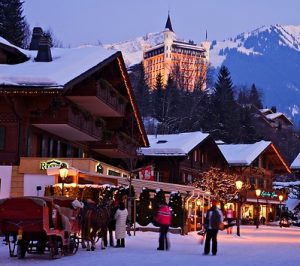 According to legend, created by the hand of God
The Gstaad The region has a further 9 chalet villages alongside Gstaad, located at an altitude of between 1,000 and 1,400 metres. According to legend, God wanted to take a short rest whilst creating the world. The imprint of his hand thus shaped the Saanenland region. His five fingers formed the valleys, with Gstaad nestling in their midst. It is hard not to believe that supernatural forces are at work when you let your eyes wander over the beauty of Nature. And nestling amidst the lakes and mountains lie the homely, Alpine villages with their characteristic chalets.
The Village
Gstaad in the Saanenland region is well-known to almost every traveller, in the same way as St Tropez or The Hamptons. The mix of Alpine authenticity, serenity and understated luxury makes it one of the best-known holiday destinations in Switzerland. In spite of its great fame, the village has remained down-to-earth.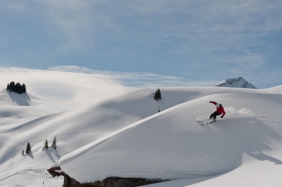 Night Life
Night owls will find an attractive mixture of stylish bars with live music, trendy clubs with DJ music and chilling lounges in the resort of Gstaad. All of them have one thing in common: their international and laid-back atmosphere.
Gastronomic Gstaad is everything you could wish for: hearty and delicious, delectably creative, genuinely regional or international. Visitors can choose from over 100 restaurants – from the finest gourmet restaurants to traditional raclette lodges. Coffee houses and tea rooms complete the choice available to visitors to Gstaad and, of course, the 'icing on the cake' is the annual Davidoff-Saveurs Gourmet Festival.
Snow Sure and a long, long season Come Up, Slow Down
Gstaad Mountain Rides is one of the largest and most diverse winter sports regions in Switzerland with guaranteed snow. Thanks to having the only glacier ski region in the Bernese Oberland, skiers and snowboarders can enjoy winter sports from the end of October right through to the start of May.

Piste Map
Facts & Figures ◾Skiing between 1,000 and 3,000 metres above sea level. ◾220 km of runs ◾60% of main slopes equipped with snow canons ◾53 lifts and cable cars ◾22 ski lifts, 10 gondolas, 17 chairlifts, 4 cable cars ◾Levels of difficulty: 58% blue, 27% red, 15% black ◾10 winter sports schools ◾8 children's nursery slopes ◾3 snow parks ◾1 ski-cross run ◾1 timed race course (BMW xDrive Cup on the Rinderberg) ◾1 skimovie run (BMW
xDrive Skimovie run on the Saanerslochgrat) ◾funslope – unique in the Bernese Oberland
This ski pass covers all the lifts in Gstaad, Chateux d'Oex, Rougemont and Glacier 3000.
Ski Rental Equipment
Over the years we have managed to negotiate some superb equipment at excellent rates and have passed the benefits of this directly to you. We use one of the top Sports Shops in the Gstaad area, Silver Sport, Route Cantonale, 1659 Rougemont. We can offer you a huge 20% discount if you need to rent any equipment for your holiday.
SKIS: Top rate skis are included in the rental price with the latest brands and models.
SNOWBOARDS: No extra for snowboards with the latest bindings and designs.
Getting Here Fly, Drive, Train
We include Cross-Channel Ferries for those who are self driving or Airport
Transfers for those flying, so you can choose the best option that
suits you.
Travelling to Gstaad

| | |
| --- | --- |
| Train Transfer Time from Basel: | 3hr 22min |
| Train Transfer Time from Bern: | 2hr 29min |
| Train Transfer Time from Geneva: | 2hr 40min |
| Train Transfer Time from Zürich : | 3hr 10min |
| Driving Distance from Calais: | 520 miles |
View the Swiss Rail timetable.
We offer a wide range of quality accommodation from 2 to 5 star, apartments and hotels
Chalets and Apartments (Self-catered):
We have 2-person studio apartments and every size, right up to 8-person apartments. They are spacious and convenient to amenities, the ski lifts and free village ski bus.
All our hotels, chalets and apartments are fully ABTA protected.
Hotels:
Again, we offer a huge range of availability on hotels. We can offer any level from our 3, 4 or 5-star hotel selection.
---
Booking
OTP Holidays – Gstaad Preferred Tour Operator of Switzerland Tourism
Our prices are simple, LOW & HIGH season. We have Youth prices for up to 19yrs old, discounts for children up to the age of 16yrs and even bigger savings for Children under the age of 9yrs!
LOW & HIGH season vary for each accommodation/re­sort – we do not add any of our own surcharges onto the cost of your stay. NEW YEAR and HALF-TERM are standard HIGH Season. If you have any queries about which dates are LOW or HIGH for the accommodation level you desire, please contact us directly.
---
Unlike most other British tour operators, the prices above include…
Up to 20% discount on ski rental equipment (if required)
Massive choice of high standard and spacious apartment or hotel
accommodation
Cross-Channel travel with car or transfers to the resort from airport on Swiss Rail
Services of our very own 24hr on-call experienced representatives
All cleaning, linen, heating & tourist tax charges