Rhaetian Railway Albula/Bernina – your base in Chur UNESCO World Heritage Site
Your base for the Albula/Bernina Railway UNESCO World heritage Experience is Chur. Switzerland's ol­dest city charms visitors with its fine mountain setting, twisting alleys and historic buildings. Numerous boutiques, restaurants, bars, museums and galleries in the largely traffic-free Old Town create a Mediterranean-style atmosphere.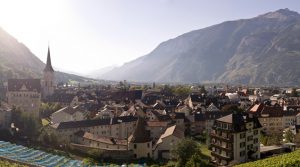 Celts, Romans, Ostrogoths, Franks – all ruled Chur, the gateway to important trade routes and alpine passes, at one time or another. What remains today, is its 5000-year history, documented by Early Stone Age and Bronze Age finds anc artifacts from the Roman period, as well as testimonies to more recent history such as the 800-year-old Cathedral near the bishop's residence.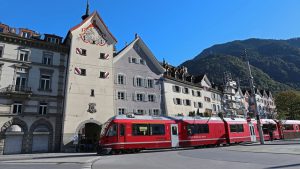 During a guided city tour, history buffs can discover witnesses to the past and hear gruesome stories from civil wars, or amusing anecdotes from times of peace. To this day, Chur is a commercial center and capital of a large region, as evidenced by a variety of stores, museums, the theater and the PostBus station, a hub of Graubünden's mou­ntain world.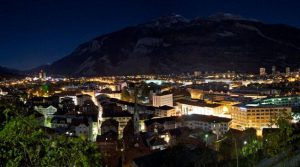 A regional mountain – the 'Brambrüesch' – means that Chur also has its own winter and summer sports region. In summer, Chur is the ideal spot from which to set off on walks and visits to vineyards in the 'Bündner Herrschaft' winemaking region. Chur is the gateway to the Grisons mountains: 26 holiday and spa resorts can be reached in less than an hour from Chur.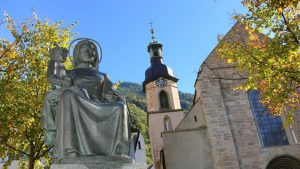 Highlights
• Rhaetian Railway, Albula/Bernina – the Rhaetian Railway has been certified as an UNESCO world heritage site and therefore has a lot to offer – best explored from Chur.
• Brambrüesch – Chur is the only city in Switzerland with its own winter and summer sports region, linked with the city by means of the Brambrüesch aerial cableway.
• Centrally located – all well-known resorts in Graubünden are within easy reach from Chur. Which means the city has a new adventure to offer every day.
• History – the oldest archaeological discovery on city ground dates back to 12'000 to 9000 years BC. Chur has been continuously populated for at least 5000 years.
• Chur is natural – 50 percent of the city area is covered with forest and at the same time Chur offers an urban infrastructure with cultural events and a large variety of shops.
• Culinary delights – you will find everything from gourmet restaurants to local pubs in Chur.
Top Events
• Chur City Festival and Alpine Beard Festival in the old town – culinary delights, music and a gathering of the wearers of Europe's finest beards, who will elect their champion (August).
• Haldenstein Castle Opera – open-air opera is performed every 2 years in Haldenstein Castle (August).
• Chur Hit Parade – Fans travel to Graubünden's ca­pital to meet top stars from the Swiss pop music world (September).
• Chur Autumn – each autumn, Chur Theatre presents an international theatre and dance programme (October/November).
• Long Saturday – various cultural venues in Chur open for 12 hours, with many short events (November).
• Advent in Chur – attractions such as a Christmas market, figure skating, gospel sounds and Santa's bus (December).
Rhaetian Railway Albula/Bernina UNESCO World Heritage Site
The Rhaetian Railway between Thusis and Poschiavo is a marvel of railway
engineering that winds its way through the Graubünden mountains thanks to man-made structures, viaducts and helical tunnels. Railway enthusiasts assert that the Albula route between Chur and St. Moritz is the most picturesque mountain route in the world and rave about the boldly curved Landwasser viaduct.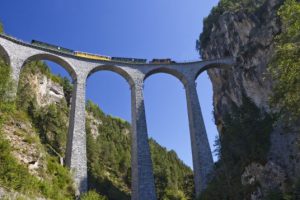 But that's only the start: on its route, the Bernina Express passes by the gigantic Morteratsch glacier, climbs without the help of cogwheels across Europe's highest railway Alpine pass, the 2253-metre-high Bernina, and winds down to Poschiavo along daring loops.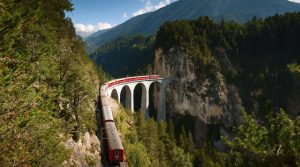 Passengers travelling on to Tirano will experience a further exclusivity in Brusio: an exposed helical tunnel. The "Kleine Rote" (small red one) is the heart of the Albula/Bernina UNESCO World Heritage listing, which also includes the surrounding cultural landscape with its pristine villages, ruggedly romantic landscapes and primordial Alps.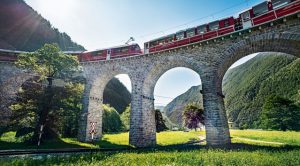 We include travel and reservations on the Bernina Express to Tirano, and you can travel back, maybe stopping at picturesque Poschiavo and don't forget the Albula Raily Museum in Bergün on the way back (FREE when you fly / 50% if you drive to Switzerland)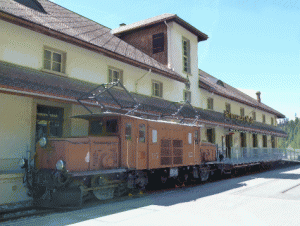 With various display rooms and a wealth of original exhibits including one of the last «Crocodile» locomotives in existence, the museum tells the fascinating story of the most spectacular of all Swiss railway lines – which is now a UNESCO World Heritage site. In all, the extensive collection (covering more than 1,300 sq m) includes more than 400 exhibits from more than 100 years of railway history.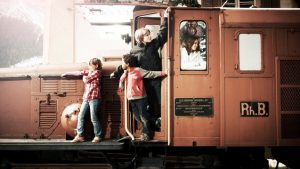 Please note that the museum is closed in November.
Attractions:
• Driving simulator in the cab of an original "Crocodile" loco
• Temporary exhibitions
• Model workshop
• Fun exhibition with children's tour
• Visitor depot for enthusiasts – and non-fanatics, too
Our UNESCO World Heritage breaks are very flexible You choose how you travel – and where from!
Fly
If you wish to fly, we can assist you with scheduled flights from most airports to Basel, Geneva & Zurich.
With SWISS, you get free baggage allowance, drinks, food, on-line check-in and they fly from London Heathrow, London City, Birmingham and Manchester.
If you prefer, you are welcome to use one of the Low Cost Base Airlines, such as EasyJet who fly from 12 regional airports to Switzerland, so we should be able to find a good value flight for you!
If you fly we also include a 3-day Flexi Pass offering you 3 days of your choice of unlimited travel on Swiss Travel System!
Drive
If you wish to drive, we include cross-Channel Ferries & Eurotunnel.
Travelling to Chur

| | |
| --- | --- |
| Train Transfer Time from Basel: | 2hr 15min |
| Train Transfer Time from Bern: | 2hr 20min |
| Train Transfer Time from Geneva: | 4hr 17min |
| Train Transfer Time from Zürich : | 1hr 34min |
| Driving Distance from Calais: | 545 miles |
View the Swiss Rail timetable.
Rhaetian Railway Albula/Bernina UNESCO World Heritage Site
You will stay in the oldest city in Switzerland – Chur, we have a great selection of excellent hotels for you.