Traditional Timber Houses Jungfrau Region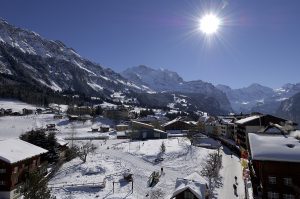 The very name Lauter Brunnen meaning many fountains tells you all you need to know about the lower village. The 72 waterfalls in the valley, the most famous being the Staubbach Falls plunge almost 300m from the overhanging rock face, and are one of the highest free-falling waterfalls in Europe.
The Jungfrau region can be reached easily from Wengen. Climbers on the Eiger north face can be seen by telescope from Kleine Scheidegg. The Jungfraujoch can even be reached by railway, and you can reach the Schilthorn summit from the valley floor resort of Lauterbrunnen via Mürren or Stechelberg.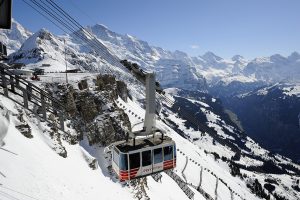 The Village
With traditional timber houses, Wengen is small, but some of it is built on a sloping hillside with old-world hotels and Stadels scattered here and there. It has retained all the character of a picture-postcard mountain village, opening widely to the south west, the terrace guarantees above-average hours of sunshine. Since 1893, car free Wengen has been able to be reached from Lauterbrunnen by cog train. The houses, small cobble streets, car free village, clean and quiet atmosphere means it holds a great deal of charm.
---
Eating Out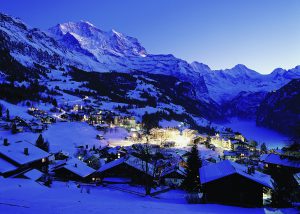 Many of the best restaurants in Wengen are in hotels and a number of these have been awarded 15 points by Gault Millau. There is something for everyone, as with most resorts in the Alps these days. There are restaurants from every corner of the world offering nearly every type of food. Wengen differs slightly, but not in quality or choice, as most restaurants have dinner service until around 9:30pm. Compared to most resorts this appears quite early, but Wengen is mainly a family based area so should not deter most people.
Wengen Heart of the Jungfrau Region
Imagine picturesque trails that lead you through breathtaking vistas of the Jungfrau Region, where every turn reveals a postcard-perfect scene. Whether you're an experienced hiker or just starting out, Wengen has a variety of trails to suit your preferences and abilities. From leisurely strolls to more challenging treks, there's something for everyone.
One cannot help but be captivated by the sheer natural beauty that surrounds Wengen. As you ascend higher along the trails, prepare to be rewarded with panoramic vistas of the Swiss Alps, with their majestic peaks and lush valleys stretching as far as the eye can see. The views from Wengen are simply unparalleled, providing a visual feast that will forever be etched in your memory.
Covering a total distance of over 500 kilometers, the hiking trails in and around Wengen offer an extensive network of exploration. Whether you choose the picturesque Lauterbrunnen Valley, the exhilarating Jungfraujoch route, or the tranquil Grütschalp hike, each step will take you closer to a renewed sense of wonder and appreciation for nature's grandeur.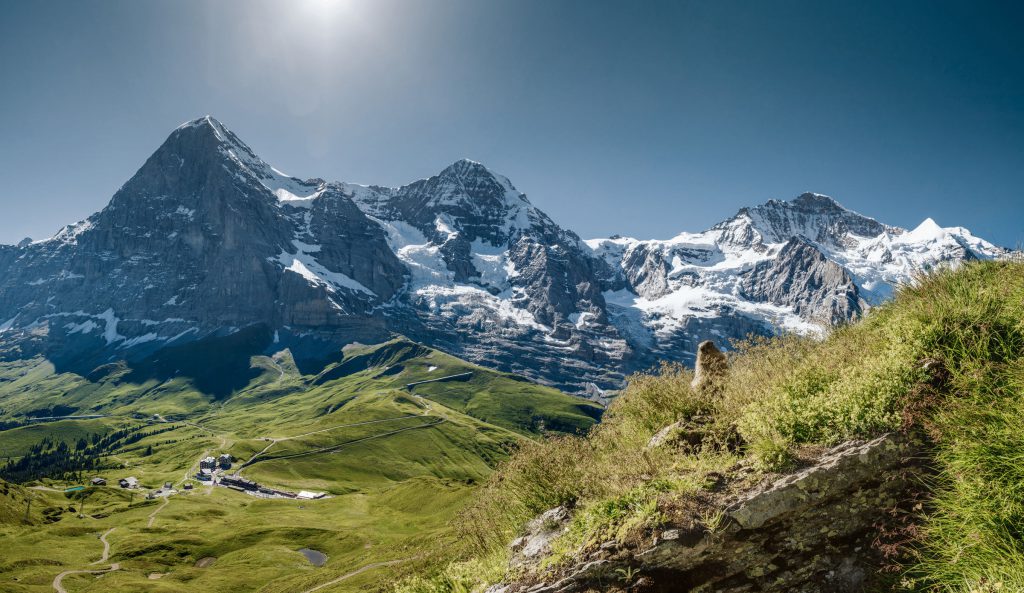 Accessing the Jungfrau Region couldn't be easier, with Wengen serving as a convenient gateway. Hop on the train, all organised by OTP, and journey through breathtaking landscapes, passing through charming villages and past numerous waterfalls before arriving in Wengen. Once there, the hiking trails beckon, ready to guide you through the beauty of the Swiss Alps.
Getting Here Fly, Drive, Train
We include Cross-Channel Ferries for those who are self driving or Airport Transfers for those flying, so you can choose the best option that suits you.
Travelling to Wengen

| | |
| --- | --- |
| Train Transfer Time from Basel: | 3hr 10min |
| Train Transfer Time from Bern: | 2hr 10min |
| Train Transfer Time from Geneva: | 3hr 10min |
| Train Transfer Time from Zürich : | 3hr |
| Driving Distance from Calais: | 520 miles |
View the Swiss Rail timetable.
We offer a wide range of quality accommodation from 2 to 5 star, apartments and hotels
Chalets and Apartments (Self-catered):
We have 2-person studio apartments and every size, right up to 8-person apartments. They are spacious and convenient to amenities, the ski lifts and free village ski bus.
All our hotels, chalets and apartments are fully ABTA protected.
Hotels:
Again, we offer a huge range of availability on hotels. We can offer any level from our 2, 3 or 4-star hotel selection. In some resorts we can even 5 star hotels.
---
Booking
OTP Holidays – Wengen & Lauterbrunnen Preferred Tour Operator of Switzerland Tourism
Our prices are simple, LOW & HIGH season. We have Youth prices for up to 20yrs old, discounts for children up to the age of 16yrs and even bigger savings for Children under the age of 6yrs!
LOW & HIGH season vary for each accommodation/re­sort – we do not add any of our own surcharges onto the cost of your stay. NEW YEAR and HALF-TERM are standard HIGH Season. If you have any queries about which dates are LOW or HIGH for the accommodation level you desire, please contact us directly.
---
Unlike most other British tour operators, the prices above include…
Massive choice of high standard and spacious apartment or hotel accommodation
Cross-Channel travel with car or transfers to the resort from airport on Swiss Rail
Services of our very own 24hr on-call experienced representatives
All cleaning, linen, heating & tourist tax charges