Samedan for Benedictine Convent of St John in Müstair UNESCO World Heritage Site
You will be staying in the delightful village of Samedan, just outside St Moritz and an excellent location to get to the Convent of St John and the National Park.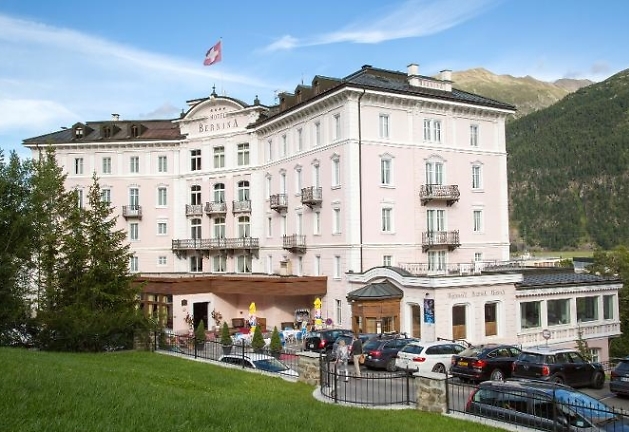 The vital Upper Engadine's main city is not only a political center but also the cradle of Engadine's way of life. Samedan is important thanks to its location in the heart of the Upper Engadine: the village is the turning point and pivot of the Rhaetian Railway and the home of the small international airport.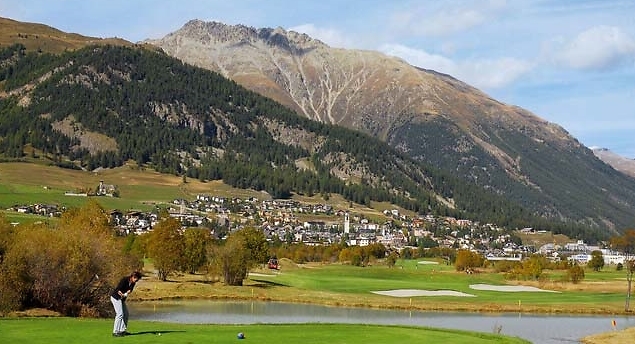 Inspite of its political and economic significance and its traditional cosmopolitan atmosphere Samedan has retained its Engadine art of living. In the village center tradition-rich rows of houses with their Sgraffito offer good photo opportunites and subjects for picture postcards. For the culturally inclined, the village has exciting highlights, especially the renovated church tower "La Tuor". The Planta House surprises people with its museum for living culture. With the Rhaeto-Romanic library and its many books it ensures that Engadine's culture remains a living part of the present.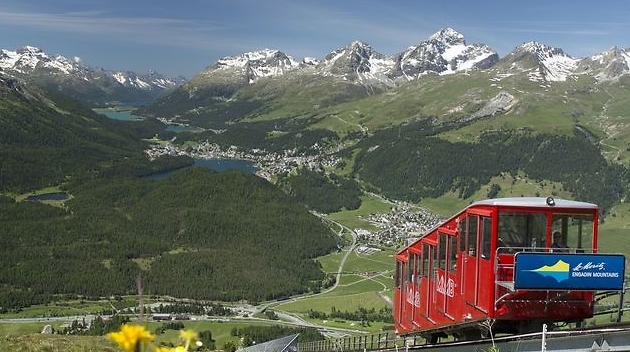 Samedan is a mecca for glider pilots. Modern trails delight biking enthusiasts. In front of the gates of Samedan the 18-hole golf course makes golfers' hearts beat faster, and in the midst of the historic village center one can bathe on four storeys – from the ground floor to the roof. Not to be missed: the majestic view of the Upper Engadine Lake District from one of the most spectacular panoramic mountains – Muottas Muragl.
Highlights
•Old St. Peter Parish Church – romanesque tower, around 1200, chancel from 1491, Gothic aisle from 1492. •Ref. Parish Church in the square – built in 1771, trapezium shaped aisle, tower restored in 1966 and 1999 and described as the most exquisite in Graubünden. •Plantahaus (The Planta House) – manor house of the Salis family (northern part around 1600, extension of southern part around 1760). The Plantahaus is now owned by the Fundaziun de Planta Samedan and has a valuable Romanesque library. •Tower Block (Surtour) of the former Lords of Samedan – was built after 1110 and later served as a prison with built-in cells
Benedictine Convent of St John in Müstair
Cultural Heritage since 1983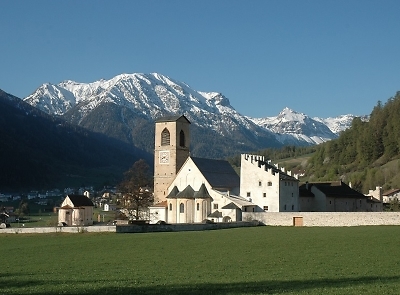 The nuns open their doors
Founded as a monastery by Charlemagne in the 8th century and later converted into a convent, this complex exhibits many architectural styles as well as artistic treasures from more than 12 centuries, delighting not only archaeologists and art historians. To this day, the convent is home to a community of nuns who live according to the Benedictine ideal of prayer and work.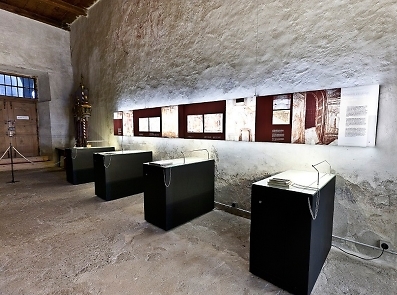 This is a treasure to behold. Set in a delightful village, the Convent of St John houses some amazing frescos from a bygone era. With your Flexi pass you get FREE entrance and a FREE Museum guide.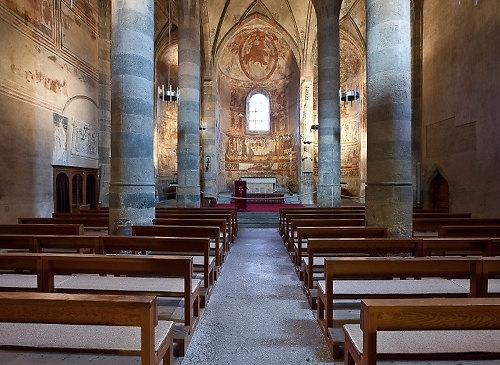 This is a prime example and no wonder it is a UNESCO World heritage site!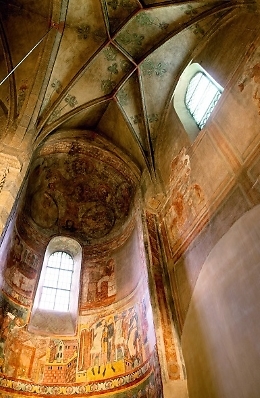 Life in the 'UNESCO Biosfera Engiadina Val Müstair' has always been at one with nature: this valley is only accessible via the Ofen Pass from the remainder of Switzerland. Everyday life here is accordingly quiet and secluded. It is characterised by traditional villagescapes, an inviting terrain and, thanks to the southern aspect of the valley, a pleasant, mild sunny climate.
The river Rom flows through this idyll, from its source in Tschierv, right to the Italian border and beyond. The themed trail along its banks passes across escarpments and old meadows inhabited by elves and takes in the splendour of fen Alpine flowers.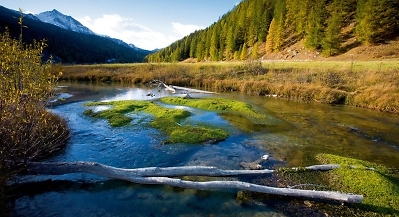 Why not take the opportunity to jump off the PTT bus and stroll through the magnicent National Park, getting back on whenever you feel like it, on your way back to Samedan – you get UNLIMITED travel on that day, so pop into St Moritz!

Our UNESCO World Heritage breaks are very flexible You choose how you travel – and where from!
Fly
If you wish to fly, we can assist you with scheduled flights from most airports to Basel, Geneva & Zurich.
With SWISS, you get free baggage allowance, drinks, food, on-line check-in and they fly from London Heathrow, London City, Birmingham and Manchester.
If you prefer, you are welcome to use one of the Low Cost Base Airlines, such as EasyJet who fly from 12 regional airports to Switzerland, so we should be able to find a good value flight for you!
If you fly we also include a 3-day Flexi Pass offering you 3 days of your choice of unlimited travel on Swiss Travel System!
Drive
If you wish to drive, we can include heavily discounted cross-Channel Ferries & Eurotunnel.
Travelling to Samedan

| | |
| --- | --- |
| Train Transfer Time from Basel: | 3hr 50min |
| Train Transfer Time from Bern: | 3hr 55min |
| Train Transfer Time from Geneva: | 5hr 52min |
| Train Transfer Time from Zürich : | 3hr 10min |
| Driving Distance from Calais: | 4602miles |
View the Swiss Rail timetable.
Benedictine Convent of St John in Müstair UNESCO World Heritage Site
We have an excellent hotel in Samedan waiting for you, with a great restaurant (half-board available) and cosy bar, right in the centre close to the train station. An excellent base to explore the Convent and National Park