Davos The Highest Town in the Alps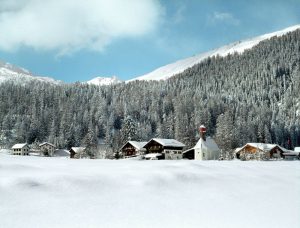 Welcome to Davos, an extraordinary resort nestled amidst the breathtaking Swiss Alps. With its majestic mountain peaks, pristine alpine landscapes, and a wealth of exhilarating activities, Davos offers an unforgettable experience for travelers seeking both natural beauty and thrilling adventures. From world-class skiing and snowboarding in winter to hiking, biking, and exploring in the warmer months, Davos is a year-round destination that captivates the hearts of outdoor enthusiasts. Immerse yourself in the stunning surroundings, indulge in authentic Swiss hospitality, and create memories that will last a lifetime in the enchanting resort of Davos.
Davos is joined by its ski area with the Royal resort of Klosters and the 2 are often known together as Davos-Klosters. They are based around 7miles away from each other and are very easily assessable by public transport during the evenings and of course via the ski pistes during the days.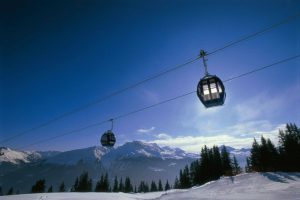 Eating Out
In Davos-Klosters you will find some amazing restaurants. They offer and mirror the diverse nature of the international scene that is present. As with many Swiss resorts there are the usual small, fine restaurants, serving typical Grisons specialities, but with over 140 restaurants around, the range extends to all corners of the world. They cater for the wide range of diverse people who visit the area for business conferences and snow sports alike.
---
Après Ski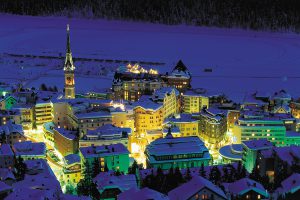 Davos is known as the party town of the Alps. With the nature and size of the town this is unsurprising. The nightlife in Davos can rival that of the major urban centres, offering everything from quiet sophisticated wine bars all the way to large discotheques. In great contrast, Klosters offers small but exceptional restaurants, which always impress due to their unique character. There is always something happening in Davos-Klosters at any time of the day. They complement each other in a fantastic way and you can enjoy the benefits of both in some of the most diverse night life in the Alps.
7 Mini Sections 1 Big Area
Davos is a great winter sports area for skiing and snowboarding fans from all over the world. At altitudes between 1,124m and 2,844m there are around 58 ski lifts all giving you access to a huge area of 320km of slopes. The seven Davos-Klosters skiing areas of Parsenn, Gotschna, Jakobshorn, Pischa, Madrisa, Rinerhorn and Schatzalp/Strela have been brought together into one vast winter sports arena. For the hardcore skiers, the best areas are Parsenn and Weissfluhjoch which connect up with the neighbouring resort of Klosters. The Jakobshorn, on the other hand, is the in-place for snowboarders, as it boasts a well groomed half-pipe and a monster pipe.
The Gotschnabahn cable car takes you up into the Davos ski area. The smaller, sunny Madrisa ski region above Klosters is also great for beginner skiers.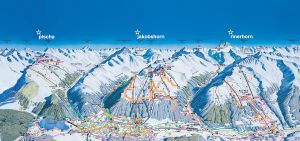 Live: Open Lifts
Non-skiers can access the miles of winter walking paths, horse-drawn sled rides, 3 toboggan runs and snow-shoe trekking. There is also 75km of cross-country ski tracks, two artificial ice-skating rinks and Europe's largest natural ice rink for people to skate or play curling on.
This ski pass covers all the lifts in Davos and Klosters.
Ski Rental Equipment
Over the years we have managed to negotiate some superb equipment at excellent rates and have passed the benefits of this directly to you.
We use one of the top Sports shops in Davos, Steiner Sports, they are very convenient and friendly and we can offer a massive 20% discount here.
SKIS: Top rate skis are included in the rental price with the latest brands and models.
SNOWBOARDS: No extra for snowboards with the latest bindings and designs.
Getting Here Fly, Drive, Train
We include Cross-Channel Ferries for those who are self driving or Airport Transfers for those flying, so you can choose the best option that suits you.
Travelling to Davos
Train Transfer Time from Basel:
3hr 45min
Train Transfer Time from Bern:
4hr 05min
Train Transfer Time from

*

Geneva:
5hr 15min
Train Transfer Time from

*

Zürich:
2hr 40min
Driving Distance from Calais:
565 miles
* Swiss Fly-Luggage available
View the Swiss Rail timetable.
We offer a wide range of quality accommodation from 2 to 5 star, apartments and hotels
Chalets and Apartments (Self-catered):
We have 2-person studio apartments and every size, right up to 9-person apartments. They are spacious and convenient to amenities, the ski lifts and free village ski bus.
All our hotel, chalets and apartments are fully ABTA protected.
Hotels:
Again, we offer a huge range of availability on hotels. We can offer any level from our 2, 3 or 4-star hotel selection. In some resorts we can even 5 star hotels.
Hotels Strela & National prices also include ski passes
---
Booking
OTP Holidays – Davos Preferred Tour Operator of Switzerland Tourism
Our prices are simple, LOW & HIGH season. We have Youth prices for up to 18yrs old, discounts for children up to the age of 13yrs and even bigger savings for Children under the age of 6yrs!
LOW & HIGH season vary for each accommodation/re­sort – we do not add any of our own surcharges onto the cost of your stay. NEW YEAR and HALF-TERM are standard HIGH Season. If you have any queries about which dates are LOW or HIGH for the accommodation level you desire, please contact us directly.
---
Unlike most other British tour operators, the prices above include…
Up to 20% discount on ski rental equipment (if required)
Massive choice of high standard and spacious apartment or hotel accommodation
Cross-Channel travel with car or transfers to the resort from airport on Swiss Rail
Services of our very own 24hr on-call experienced representatives
All cleaning, linen, heating & tourist tax charges