65 Thermal Springs Relax, Unwind, Warm-Up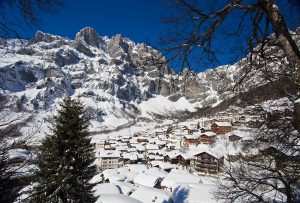 Every day 3.9 million litres of hot water gush from the 65 thermal springs in the mountain spa resort of Leukerbad. These thermal springs have led to the development of tourism in Leukerbad and made it one of the biggest spa and wellness resorts in Switzerland. Apart from a medical rehabilitation centre, its attractions now include numerous public thermal baths. After their sporting activities, skiers cannot miss the chance to regenerate in the warm, relaxing water. The centre of Leukerbad is traffic-free and the Leukerbad Sports Arena offers plenty of indoor sports facilities to enjoy all-year round, whatever the weather.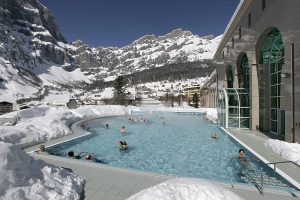 The baths consist of Jacuzzis, steam rooms, whirlpools and jets, and they all offer special events such as breakfast in the water, bathing at full moon and aqua fit exercises. These add a superb finishing touch to the fun, lively resort on offer. It all goes to show that swimming in Leukerbad is anything but boring.
The Village
The village has a nice enclosed feeling, having steep mountain faces all around the boarder. Cars are allowed around the village however not into the main centre. This does not mean that the resort is over run by vehicles, as everything in the resort is within walking distance, therefore keeping it very quiet. The main high street is wide and has a few restaurants, baths and shops on it, it then curves and narrows and this is where a bit of the Swiss character returns. Little quaint coffee shops with seats at the front line the cobbled street.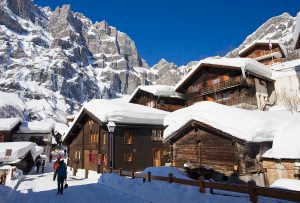 Eating Out
In Leukerbad and the surrounding area, you'll find wide variety of culinary delights based in the regions 50 restaurants. These include everything from regional specialties to international dishes and haute cuisine. They taste all the better accompanied by a drop of the local Pfyfoltru wine, which is produced in Varen.
Alpine or Cross Country Panoramic Views
There are 2 areas to ski in Leukerbad, Alpine skiing on the Torrent and cross-country on the Gemmi Pass. Leukerbad offers about 50km of ski pistes, 25km of cross-country ski trails.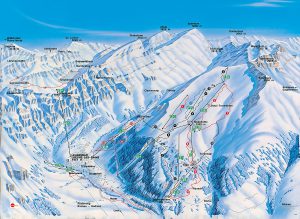 Piste Map
The Gemmi cable car heads towards a steep cliff face and carries passengers up and over it to the Gemmiwand. This holds some amazing mountain secenery of the Gemmi region that is rich in tradition and holds the start point for Switzerland's lar­gest and highest Via Ferrata climbing trail.
The Torrent lift is where the main skiing takes place in Leukerbad. The
pistes up there are very unique and offer panorama views and take you up to heights of 2,700m.
Ski Rental Equipment
Over the years we have managed to negotiate some superb equipment at excellent rates and have passed the benefits of this directly to you.
We use one of the top Sports shops in Leukerbad, Relaction Sports, with excellent and well serviced equipment waiting for you – along with a 20% discount.
SKIS: Top rate skis are included in the rental price with the latest brands and models.
SNOWBOARDS: No extra for snowboards with the latest bindings and designs.
Getting Here Fly, Drive, Train
We include Cross-Channel Ferries for those who are self driving or Airport
Transfers for those flying, so you can choose the best option that
suits you.
Travelling to Leukerbad

| | |
| --- | --- |
| Train Transfer Time from Basel: | 3hr 25min |
| Train Transfer Time from Bern: | 2hr 35min |
| Train Transfer Time from Geneva: | 3hr 05min |
| Train Transfer Time from Zürich : | 3hr 25min |
| Driving Distance from Calais: | 560 miles |
View the Swiss Rail timetable.
We offer a wide range of quality accommodation from 2 to 5 star, apartments and hotels
Chalets and Apartments (Self-catered):
We have 2-person studio apartments and every size, right up to 10-person apartments. They are spacious and convenient to amenities, the ski lifts and free village ski bus.
All our chalets and apartments are fully ABTA protected.
Hotels:
Again, we offer a huge range of availability on hotels. We can offer any level from our 2, 3 or 4-star hotel selection. In some resorts we can even 5 star hotels.
---
OTP Holidays – Leukerbad Preferred Tour Operator of Switzerland Tourism
Our prices are simple, LOW & HIGH season. We have Youth prices for up to 20yrs old, discounts for children up to the age of 16yrs and even bigger savings for Children under the age of 8yrs!
Unlike most other British tour operators, the prices above include…
Up to 20% discount on ski rental equipment (if required)
Massive choice of high standard and spacious apartment or hotel accommodation
Cross-Channel travel with car or transfers to the resort from airport on Swiss Rail
Services of our very own 24hr on-call experienced representatives
All cleaning, linen, heating & tourist tax charges