Classic Swiss Mountain Town Jungfrau Region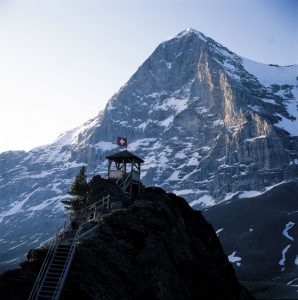 Grindelwald is also the largest base in the Jungfrau region, which includes Wengen and Mürren. It shares a hiking area with Wengen, but also has its own Grindelwald First area, famous for the accessibility of its glaciers and spectacular scenery. Long famed as a winter & summer tourist destination with hiking for all standards and the challenges of the Eiger glacier for the experienced, it is the usual starting point for ascents of the Eiger and the Wetterhorn.
Grindelwald village is a classic Swiss mountain town. It is surrounded by authentic Alpine farms and chalets. All the hotels, little shops and restaurants line up along the main road, leaving all the smaller quaint and traditional chalets and hotels to spread up the hills to the north of the village. The best places to go are just outside of the village to take in the amazing experience of the charming valley, while being surrounded by the original farms and outbuildings.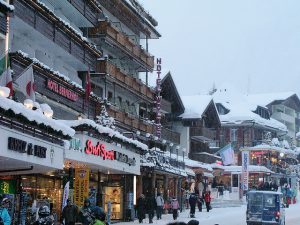 Eating Out
Grindelwald has a great selection of restaurants. They are mostly hotel based, serving everything from Chinese, French, Italian, and Japanese all the way back to the Swiss Specialities. These range from informal and very good value with a village square boasting unpretentious and friendly restaurants to the top and 4 star hotels and restaurants.
The Eiger village – and Tolkein too

!

In 1911, the 19-year-old J.R.R. Tolkien hikes through the Swiss Alps – and of course through the Lauterbrunnen Valley with its steep rock faces. Hardly anyone knows that he found his inspiration for the landscape in «Lord of the Rings» here. Yes, really: those who know the books and films immediately have the feeling they've been thrown into Middle-Earth.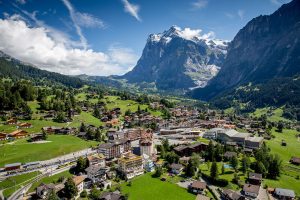 It doesn't require much fantasy to imagine that you're in the middle of «Lord of the Rings» during a visit to the Trümmelbach Waterfalls. With its ten glacier waterfalls inside the mountain, made accessible by a tunnel lift, the Trümmelbach Waterfalls are unique to Europe.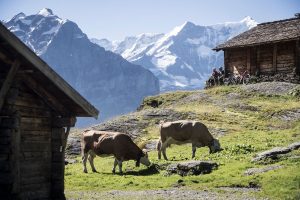 Unspoilt nature and idyllic valleys with fragrant forests and countless lakes await discovery. And there is always a view of the mighty mountain giants of the Alps. During every hike in Grindelwald, wildlife and alpine flowers can be seen.
There are both challenging hiking trails for experienced hikers as well as easy tours for beginners and families to choose from. Depending upon what one is looking for, hiking in the Alps around Grindelwald can be an athletic challenge, an enjoyable family outing or a relaxing and pleasant walking tour.
The cog trains run all summer, so if you prefer to get some height before hiking, they are ready to whisk you to over 2000m if you wish! You choose the duration of your holiday and how much you want to do.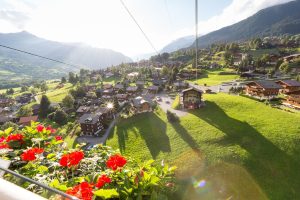 Getting Here Fly, Drive, Train
We include Cross-Channel Ferries for those who are self driving or Airport Transfers for those flying, so you can choose the best option that suits you.
Travelling to Grindelwald
Train Transfer Time from Basel:
3hr 00min
Train Transfer Time from Bern:
2hr 10min
Train Transfer Time from

*

Geneva:
3hr 35min
Train Transfer Time from

*

Zürich:
2hr 55min
Driving Distance from Calais:
520 miles
* Swiss Fly-Luggage available
View the Swiss Rail timetable.
We offer a wide range of quality accommodation from 2 to 5 star, apartments and hotels
Chalets and Apartments (Self-Catered):
We have 2-person studio apartments and every size, right up to 8-person apartments & chalets. They are spacious and convenient to amenities, the mountain lifts and village bus.
All our hotels, chalets and apartments are fully ABTA protected.
Hotels:
Again, we offer a huge range of availability on hotels. We can offer any level from our 2, 3 or 4-star hotel selection. In this resort we can even offer a 5 star hotel.