Monastery and Collegiate church Standalone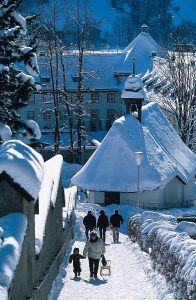 The village is characterised by the imposing monastery and the collegiate church. There are still about 30 monks living and working here today. The Mountain of Angels, as the founders of the Benedictine monastery called the place in 1120, is a popular excursion destination for people travelling from nearby Lucerne: the journey to Engelberg by road or narrow-gauge railway can take as little as one hour.
---
The Village
Engelberg is a standalone resort in the centre of Switzerland situated at 1,000m and was originally not set up to be a resort. The fact that it is a standalone means it adds to the character and charm of this little village, which has not been affect by a rush to join resorts to one another. Modern shuttle buses or a brief walk can get you to the main lift stations. This is a small price to pay for the size and quality of the hiking area. The 3,000m range is the first area to be hit by the weather system from the North West and therefore is always an excellent resort for snow in winter and sun in summer, that and the single hamlet feeling, give the resort a very special feel.
Eating Out
Engelberg has a great range of dining with over 55 restaurants to choose from. Surprisingly, although it is not connected to any other resort it still can boast a great international mix. There are of course, the normal great fondue and Raclettes places you'd expect to find but also dotted in between these classics are French, Italian, Indian and Chinese places.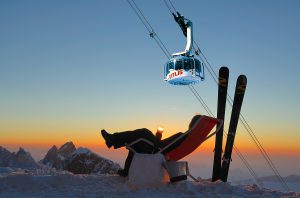 Hiking on the Angel Mountain! 500kms+ of marked hiking trails – and the peaks too!
More than 500 km of hiking trails await you in Engelberg, where you can leave your everyday life far behind on unforgettable tours in the midst of an impressive mountain world. Countless well-signposted routes – from leisurely to high alpine and easy to difficult – promise you a fantastic nature experience.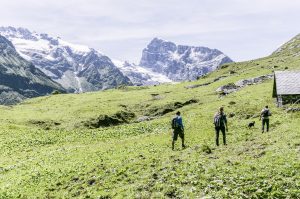 There are a number of themed hikes are a successful mix of an unforgettable nature experience, sporting activity and an authentic encounter with Engelberg traditions. Let yourself be inspired.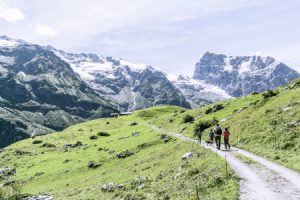 You want to tackle a longer hike that challenges you and takes you to the most beautiful places in the Engelberg mountains? Then let yourself be inspired by these tours – it's best to try them all out!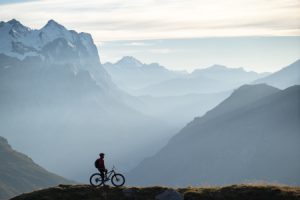 The lifts run in the summer, so if you prefer to get some height before hiking, they are ready to whisk you to the peaks if you wish! You choose the duration of your holiday and how much you want to do.
Getting Here Fly, Drive, Train
We include Cross-Channel Ferries for those who are self driving or Airport Transfers for those flying, so you can choose the best option that suits you.
Travelling to Engelberg
Train Transfer Time from Basel:
2hr 45min
Train Transfer Time from Bern:
2hr 35min
Train Transfer Time from

*

Geneva:
3hr 35min
Train Transfer Time from

*

Zürich:
2hr 05min
Driving Distance from Calais:
500 miles
* Swiss Fly-Luggage available
View the Swiss Rail timetable.
We offer a wide range of quality accommodation from 2 to 5 star, apartments and hotels
Chalets and Apartments (self-catered):
We have 2-person studio apartments and every size, right up to 8-person apartments. They are spacious and convenient to amenities, the ski lifts and free village ski bus.
All our hotels, chalets and apartments are fully ABTA protected.
Hotels:
Again, we offer a huge range of availability on hotels. We can offer any level from our 2, 3 or 4-star hotel selection. In some resorts we can even 5 star hotels.
---